Behind the Lines of the Hidden
May 20, 2011
This story is for all those forced to hide. I wrote this knowing no one would believe me. You do not need to know my name, age, or position in society. None of that is important in my testimony, none of that matters. What matters is that I saw one, and lived. It was by mere chance that I lived, I did not kill it. In fact, I almost died.

It started as I was walking home from the mediocre slate grey and seafoam green of the halls, everyone acting more like zombies every day, drooling on their bacteria infested desks, not caring at all about the futile information the teachers try to feed us, even though we know better than they of the desperate situation of our world. I was thinking about this as I was walking, paying little attention to the trees that turned inevitably brown and withered, dead, and the sky that was constantly ashy, making the most essential function of breathing a painful task.

In fact, everything around here now is dead and ashy. The trees, grass, crops, and most life died within the first two years, including people, and those who lived, like me, are changed. We have little food, and the drinkable water is ashy and boiled. I am always famished and breathing takes all my energy. Which is probably why we make such good prey; the ash they create makes it almost impossible to run. Therefore, I never got why we still had to go to school like it was a normal day. Because it never is; a normal day, I mean, not for us that are left, not for the hidden.

The scientists found out too late about the reapers and their ability to turn any living organism fatal to its prey. When it escaped from the enclosure, humanity was doomed. The scientists were the first to go. Then people started disappearing, ending up in pieces in the road, a head here an arm there. This is how I discovered my best friend Alana. Her reaper overtook and penetrated her cat, I found out later. She went out when she heard the furball's innocuous mewing and encountered not her cat, but an enormous catlike creature, like a lion, but with spikes on its tail and fur like needles. When they found it later they attacked it with bucketfuls of water and killed it; the resulting ash cloud it left behind killed everything in the area. I have no idea how they figured out that water killed it. Nothing else kills it. Weapons made by humans, are useless, even the nukes. That just makes them irradiated, and thus even worse. So we started hiding from them, raiding food stores to stock up on canned goods, locking ourselves in our homes, hoping against hope that all this would just disappear. We became the hidden, the lost, the bottom of the food chain.

But because my house was literally two minutes from the high school, I still had to go to school.

Anyways, I was walking slowly home, trying but failing to enjoy my few moments outside even though rain was inevitable, when I heard the random rustling of a tree. Nothing was near it, and there was no breeze. But, as I turned to look, the dead piece of wood came alive, a healthy brown, with lush emerald leaves, and it grew and grew, its branches developing thorns and spikes and what looked and sounded like round saw blades.

Just like Alicia's cat.

Great, they overtake dead things now.

I knew I should have run. Run straight home acting like nothing ever happened. But I couldn't. I couldn't lead it there, not to where I lived. So I tried to fight it. I ran up to it, a bottle of water from my meager lunch of a half of a PB&J in hand and threw it at the reaper. The bottle broke instantly, water spewing everywhere.

Nothing, it didn't work.

The next few moments went in slow motion. The reaper grabbed me by its branches, its spikes and thorns piercing every spare inch of my body, entrapping a scream in my bleeding lungs. I clawed feebly at it trying to get the spikes out, but the reaper trapped my arms in a crucifixion pose. Then I heard the saw blades, sharp, shiny and beautifully fatal. They came toward me aching to cut my limbs, spill my blood, needing to feed, to taste the rich milky liquid. I thrashed about, tearing my skin, making its grip on me tighter.

When I felt the first drop dance down my face I thought it was my own tears, crying, begging, to be left alive, but the left side of my face was left dry. I looked up at the sky, making my throat vulnerable, and saw the darkness, and the emery cloud.

I laughed.

The drops fell slowly at first and the reaper flailed me about trying to avoid the inevitable, trying to break my neck, kill me quickly. But I managed to hold on, to survive, and when the rainstorm came, it wailed in pain, and dropped me and I fell and fell what seemed like forever.

I don't remember hitting the ground.

I remember the ash cloud from the death of the reaper, how it filled my lungs and made my head swim, how only pure adrenaline got me home.

The rest isn't important. What is important was that I was saved by pure chance, by luck, and that I want you to know you are not alone. I hide behind the lines of this story knowing I was lucky, that I never want to go through that again, but that I was lucky.

And that yes you can survive the reapers.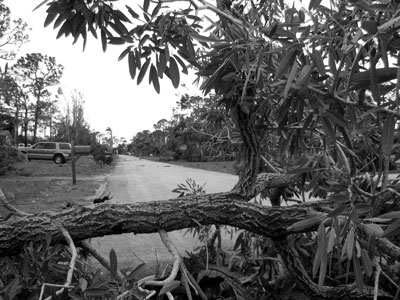 © Emily O., Boynton Beach, FL