The Tale of Michael, Prince of Doves Chap.Two:The New King and The Princess
May 4, 2011
Back then, I wasn't old enough to be king yet, but I still ran the kingdom with the help of my fairy, Amelinda. When I turned eighteen that would be the day I would be crowned king. As the years went by, my Uncle Lucifer and his city got quiet. He never attacked the city again after my mother's death. Ten years went by, and it was the day I was to be eighteen. I was trying to get prepared for my coronation with the help of Amelinda.

"Sir," she said, "You are going to make a wonderful king."

"Thank you Amelinda, but I am afraid that will not be able to give the people of our kingdom what they need."

"Michael, sir, you will be wonderful. Your people believe in you, as do I," she in a cheery voice.

"I know. Thank you Amelinda," I said.
After I was done getting prepared for my coronation, I made my way to the throne room with Amelinda sitting on my shoulder. As I walked into the room, the people of my kingdom and the people from neighboring kingdoms looked my way. They all smiled at me. I looked straight ahead and began walking down the middle of the isle. As I sat on my thrown and look out into the crowd, I thought about how I would always protect this kingdom.

"Michael, Prince of Doves, ruler of Doveinia, protector of all, do you swear, honor, and commit to be Doveinia's sworn ruler for as long as you live in this realm," Joseph, my crown bearer asked.

"Yes, I do," I said in the most confident voice I had.
Joseph then placed my crown on my head and I was officially King of Doveinia. I looked out into the crowd and I saw that everyone was wearing glorious clothing. The plan was to have a ball after my coronation in honor of me so everyone looked perfect.
As I searched the crowd my eyes stopped and stayed on a beautiful girl. She was tall and thin with skin the color of a ripened peach and eyes as green as a new spring. Her hair fell down her back in a curly wonder and was as fiery as the sun. She wore a long red gown that cut low and hugged at her breasts then flowed down her body in a magnificent way that made her look like a goddess. She also had a magnificent Phoenix on her shoulder. I leaned over and whispered to Amelinda.

"Amelinda? Who is that beautiful girl over there," I asked, directing my eyes to the girl.

"That, my dear, is Lilith, Princess of the city Phoenixia," she whispered my ear.

"She is beautiful. My dear Amelinda, will you please ask her if she will accompany to the courtyard at midnight," I asked her.

"Of course, sir."
I watched as Amelinda flew to Lilith and landed on her shoulder. I was almost certain that Lilith would agree. I watched Amelinda ask her my question, and when she did, Lilith turned and looked at me, smile forming on her beautiful lips. She turned back and gave Amelinda her answer the she flew back to me.

"Sir," she said, "Princess Lilith has agreed to accompany you."
I could tell she was worried.

"Amelinda," I asked, "What's wrong?"

"It's Princess Lilith, sir. I have a terrible feeling about her. There is just something I don't trust in her. It was the way she looked at you. It was a look of hunger," she said scared.

"There is no need to be concerned my sweet Amelinda. I will be careful. I promise."

"Then a promise it shall be, sir," she said sweetly.
I looked back out to the crowd where Lilith had stood, but when I did, she had vanished. Instead, the person standing in her place was a person that sent a chill down to my very bones. My Uncle Lucifer. I closed my eyes for a moment, the opened them again and he had vanished. Did I really see him or was I simply hallucinating?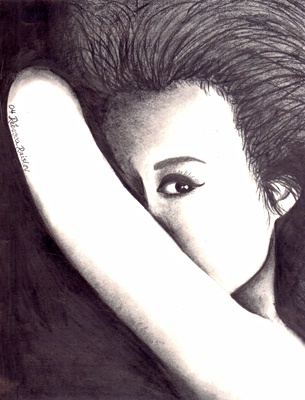 © Rebecca R., Edison, NJ