Ambition- A Ghost Story
May 2, 2011
Still. The world was still, and the audience waited, more dangerous than the shark below. Normally, at times like this, June felt so safe in her element and powerful it was like being a fish underwater, but today discord rang inside her head. Wrangled, twisted harmonies filled the silent air and she felt too full, like she had eaten too many pastries. Across the room, Burgwen, beautiful, charismatic, sunny Burgwen, locked eyes with her as she swung to the ropes, then leapt, stunning body souring over June like an eagle. Landing neatly on the padded poles she took a bow, filling the circus tent with applause. June knew she would fall, arms flailing dramatically, and June knew the audience would gasp in fright as Henry the Shark licked his chops. June knew she would catch her sister and cast her up to the top of the tent where they would do act # 12, The Ultimate Fall with Nice Flicking Swing at the End. All well rehearsed.
She's so beautiful, hissed June's stomach in envy.
Shut up. June concentrated and tensed her muscles, tendons tight on shapely calves.
You don't have to catch her this time. Today, or ever again. You could be the sun, and she the ghostly moon. Henry hasn't been fed for a while now. Accidents happen, dearie...
"NO," whispered June, caught her sister's hands and cast her up to the top of the tent where she followed. Miracles were performed, at the audience left, hunger for entertainment quenched.

Dark, flickering shadows danced around her ankles. Across from June was John the weight-lifter, spooning soup into his mute mouth, scooping the dribbles out of his moustache and swallowing them. He paid her no attention. All the other performers were at the pub, John not being allowed to drink on account of his temper, and June too young. Hearing soft footsteps behind her, she flipped her head to see the intruder, but it was only Burgwen. Where she was standing, she eclipsed the moonlight and the shining light from behind gave her a slight aurora.
"You were late on the uptake today June," demanded Burgwen, her pretty features narrowed and menacing. June gave no reply, staring up at the woman with wide eyes, wondering and waiting, worried. "Such slackness cannot be tolerated in a show such as ours. An accident might happen, and we all must be very careful, mustn't we dearie?" the voice was a snarl now, razor-sharp in the candy-floss words, and two knifes appeared in each hand. June stumbled back, towards the weightlifter, who continued to ferry soup to his mouth.
"Very careful dearie," screeched Burgwen and sprang at the younger girl like some kind of large cat, swiping kitchen knives randomly. One connected. Gasps and half-formed howls filled the night air. June began to sob quietly, her blood spilling out from the wound across her chest onto the dirt. They slowed, stopped, started, and stopped. After she was quite dead, Burgwen disposed of her with the help of Henry, who had no idea who he was eating but wouldn't have cared anyway, making the water a darker shade in a night of swirling fins. Burgwen chuckled to herself, washed her hands, peeked in the mirror, re-applied her mascara and walked back to the death scene. There was a stain on the floor, but that could have been nothing but spilt wine soaking the earth. Could have been nothing at all.

John stood up and kissed her, the ghost of June watching them from the shark and the stain, her only remains. And the sun, travelling in the swarms of cells of spittle that mixed in their kiss. A tiny virus, sniffing for a new victim, searching with shining spotlights, found what it was looking for. It invaded one of the nuclei. From there, it was the spread of a common virus. Millions of copies of the sun burst out from the wasted cell like maggots, shining and fiercely wriggling towards new hosts. Invade, burst, wriggle, invade, burst wriggle, and invade.
The two figures separated, John and Burgwen, and Burgwen noticed his eyes glowed, now flecked with gold, feral and foreign. Something inside of her grinned. Something inside of her, screamed. Invade, burst, wriggle.
June watched all of this. Now that she was dead, she knew everything of RNA and of the nature of her death. She also knew about quantum and several verses of the alien nursery rhyme. Not having a body can be quite useful, especially in areas of getting into the universal matrix. There was someone beside her, next to her elbow. Old and drooping, like a melted wax figure, the man was translucent, a browned photo of dark, bagged eyes and a square moustache. He coughed, unearthing a cloud of lung-dust, and inquired-
"She related to you?"
"My sister," June replied. There were others behind him, a crowd of ghosts. Following the sun-virus and its hosts, they were its victims. Because this rare virus didn't kill the infected person until the very end, until there were no more cells left to make copies with, until everything was used up. It killed the people who were immune, those whom when whispered to in the night to murder, to climb to the top and push said...
"NO."
John and Burgwen walked away, holding hands, trailing a crowd of phantasms behind them. Suddenly, when you looked, they were everywhere, every walking person with a cloud of ghosts following. Grey and strange, they muttered quietly as if a huge library, not individually spooky but all together, slightly menacing.
June walked as part of the dead masses, unsure of what to do. She susurrated down to the small, brown man,
"Why are we following them? What are we doing?"
"We're waiting." His voice was cloudy and hushed, as if he was scared that if he used it too much it would dissolve.
"For what!?"
He gestured towards the glamorous girl and spoke simply,
"For her. And him now."
The panicking, unspoken words spilt into June's mind and hardened, like cold water in a winter boot
To die.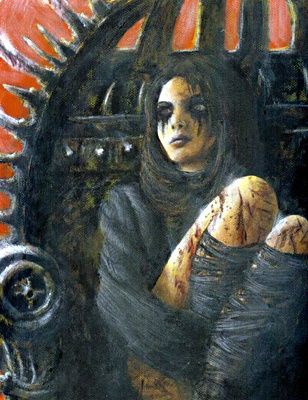 © Veronica N., Kenora, ON, Canada