beta.
April 15, 2011
It was the month of Atara the illness began. Colossal, and gruesome, like the monster we all so often dream of. It was incurable; nothing, no one, could stop it.

We called it Beta.

Imperceptible symptoms flagged the sickness. Subtle hallucinations went unnoticed by the people around. But me. I noticed.

I noticed when Mema clapped her hands over her eyes and wailed over her insect-covered floors. "Ghunte, ghunte; Pepa, can you not see the ghunte? See how they wear away the beautiful stone." But Pepa could not see.

I noticed when Pepa jumped with excitement and shouted at the little corrosive brutes. "I see them, I see them. Kiv. Daughter, bring kiv. We will rid our home of these beasts before the sun has touched the Prayer Tree."

I brought kiv, our last cube. Mema and Pepa watched me. They watched as I crumbled it where Mema pointed, they watched as the ghunte's legs skittered across the floor faster than Pepa's lashing hand to feast upon the rubble rock. They watched the ghunte where there were none.

[Ghunte are not harmful to people. They feed on stone softened with an acid secreted by glands in their feet. To lure them away from our homes we use kiv, a worthless debris gathered in times of battle. And yet when infestations begin to rise, Mema keeps the home closed to me until I make the two-day trip to Market and barter for more. Atara is a warm month, the sun's warm curls probing my dark skin not unpleasantly, and so I only wear a sarong of thin leopard's hide. It is an easy journey. I do not finish my food store before the journey's end and am welcome to return to my family, laden with rubble and sweet sweet honey to eat.

It is not cruel, their refusal to allow me their shelter until I comply to their demands. We People of the Earth understand what must be done. Children of the home are called upon for the harshest of chores - in month Belek, when the ice crystals fall from the sky, it is the children that trek through the freezing village to gather basketfuls of ember. Ember is rare that time of year; this plant gives us heat, and because of the seasonal scarcity our village is blanketed in cold and wet.]

Even as each family took its turn in shocking blows of delusion, there were those who remained clean of the disease. They were the ones who named it Beta and its victims T.P.

None of the rest of us knew what T.P. stood for. But when one was asked, a strange guttural noise came from his throat and he hurried away. Foreigners they seemed and foreigners they were. All of them wore long white robes, stiff robes with big pockets and a little black dagger emblazoned on the chest. Many wore strange contraptions, little silver things that hooked behind the ears and perched on the nose and settled little windows for the eyes to see through. They came from a land many rivers away, begging for food.

We thought it strange how they hungered for bread while their coats were so crisp and white, but we were never a people to question the hungry. Gladly we shared with them our food, our water, our shelter.

They too were a helpful people - they day Mema and Pepa collapsed, I called for help and two of them rushed to my parents' side. They touched Mema's chin, Pepa's ear, mumbled to each other in their alien language and turned to me. Mema and Pepa are dead. T.P., they kept repeating, and these were the only sounds I recognized.

I could not respond; my lips freeze, my fingers freeze, my clumsy knees freeze and I fell to the ground. The impact jolted my senses back into me and I began to moan and wring my hands. Pepa had been angry with me for I forgot to tend to the bright blue blossoms he loved so dearly, and Mema had promised me her own mema's special stone bracelet. Make them come back. I do not want them to be gone.

I cried and cried until a tall man with prickly hairs on his chin approached me and pressed a little yellow flower into my clenched palm. My tears stopped and he coughed and my lips curved and he nodded. I did not want to breathe his topere, his flower of forget, but I did not want to offend the nice man. I pretended to take a deep breath by puffing my stomach out and smiled at him. He did not smile back; rather, he watched me for some time, wrote something on a little white square in his stiff pocket and hurried away.

He knew I had not forgotten.

The day after the Mourningday was a happy one, for we celebrate death as the shortest path to the sky - where we are to eat and drink and laugh with old and new friends alike. Too many raucous jokes and slaps to the back left my head spinning. I stepped into Mema's bedroom to breathe away from the festivities when

Ghunte. Everywhere. They are everywhere.

No more kiv, I need kiv: why do the ghunte swell so? Oh, oh, they are crushing Pepa's favorite water urn, now they are crushing the ancient bed. Stop. Stop it.

All red. I feel the world pulsate around me.

They mutter. What do they mutter? Beta. T.P. Beta. T.P. What do they mutter?

All black.

Someone, someone, hear my cry. Oh, Mema, Pepa, I see you...

---
I hear a voice, one that seems it would belong to a tall man who, perhaps, in my time of grieving, pressed into my hand a little yellow flower that I may forget.

"Specimen B-452: Termination Permanent."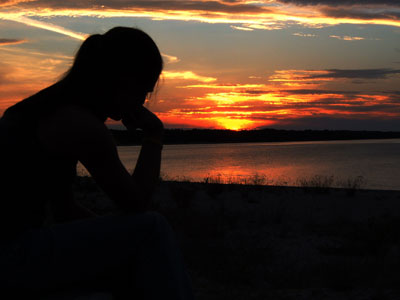 © Hilary L., Rogers City, MI