The Random Dreams of Jacob: Dream 1 on 3/3/11
March 4, 2011
This dream included a Jason, Victoria "Tori", Mary Beth, "Alien" Aubrey, Jonathon, Steven, Fermen, Nico, Antonio and the freshman football team of Cibola in 2010. In my dream the antagonists was a 100 million sword wielding, six foot tall, zombie orcs.


The battlefield was a fortress much like a football arena. There were seventeen watchtowers that stood guard over the area. In each of them were six people in each tower armed with a bow and arrow and a melee weapon of their choice. Mine happened to be a scimitar that was a hand-and-a-half handle. Mary Beth's was a three inch knife that had a jagged blade that hurt more coming out. Tori was armed with a giant ninja throwing star. Steven was armed with wrists blades that snapped out with a push of a button. Jonathon had a silver long sword and my fellow football player Christian Ochoa was armed with a spear. The army had already surrounded us with no hope of undetected escape. They were brutes that were an average of six feet tall and had barf green skin. They wielded rusty blades as tall as eight feet and they were very sharp. Their snarling could be heard all the way to our position. We drew our bows and took aim. Jason, in another tower, attempted to load three this one time. He had to settle for two.

Jonathon was the first to fire into the crowd. He struck a six foot three inch orc in the neck and that orc fell dead. The orcs roared and charged. We fired into the endless crowd of furious orcs. No matter how many, we shot they reached the walls and began to scale the imperfect marble. Within minutes an orc reached us. He grabbed Jonathon before we could do anything and tossed him out into the writhing mass of zombie orcs. I put an arrow in his eye before he could take another of my comrades. We managed to hold them off for another ten minutes before Jason, Fermen, and Alien ran into our tower and told us the orcs had overran the fortifications and everyone else is dead. They held the door against 45million orcs while we tried to delay the orcs coming from below. We watched as they swarmed the towers next to us and (though they fought valiantly) the defenders were quickly killed.

They eventually broke through the door and we were forced to face them in hand to hand combat. I swung and cut clean through five of the orcs before they could move. Cristian stabbed a couple orcs climbing the walls but they grabbed him and threw him out of the tower. But he took many of them with him. He held his spear horizontally and knocked the orcs off the wall. That bought us enough time to hack our way out of the tower and began making our way to another tower. Nico, who was still alive, came running out of his tower swinging an axe, taking down eighteen orcs before the hit him. They cut him cleanly in half and then swarmed the body. That bought us enough time to retreat into another tower unnoticed and lock the doors. We used the dead bodies of our comrades to block the door and killed the orcs already in the room.

We knew all was lost. They'd either reach us by climbing or break through our door. Jason who wielded a six foot axe went over to the window and looked at us. He said "Join me in everlasting glory!" and leapt out the window swinging his axe wildly. We looked at each other and followed him out the window. He was cutting orcs in half as he fell. I swung wildly and began to kill the scaling orcs. And as I was falling there was only two things I could think of. Jason had stolen my line and what is that annoying beeping noise?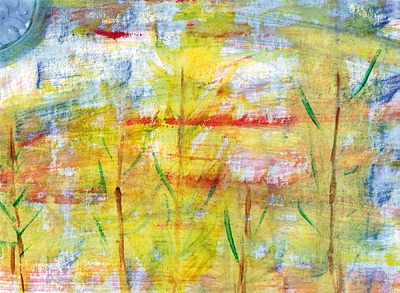 © Raymond G., Phoenix, AZ