My Strange, Magical, Mythical Life~Chapter One
February 8, 2011
My name is Riley Smiles. Stupid name, right? Well, I've lived with it for the past 14 and a half years, so bear with me, please.

On the outside, I look like the typical 14 year old: Long blond hair, "purple" eyes that my Mom simply adores, about 5'5, and looks pretty enough to be a high school cheerleader. (And I absolutely despise cheerleaders.) But when you look inside of me, I'm not an average 14 year old girl.

On the inside, I'm totally different from you and your best friend.


For one, I have larger lungs than you do; and no, not like the ones Maximum Ride and her "Flock" had. Mine are about three times the size of a regular person's lungs. Also, my heart beats about 1.4 times faster than yours; my memory goes back as far as when I was two. And-this one really freaks me out-I can control all six elements.

No, there aren't four elements. There are six: Earth, Water, Fire, Air, Lightning, and Spirit. We all know the first four, considering how we see them almost everyday of out lives. But the last two, Lightning and Spirit, are new ones for me.
Apparently, Lightning is when I can control lights and stuff. For example, during History class, I made all of the lights turn off and on. It scared my teacher so badly, that she ran out of the classroom screaming her head off. It was hilarious!

As for Spirit, it's when I can hear what other people are thinking, as if they're saying it right to my face. Also, I can move things with my mind, control people's actions, and heal myself and others. But, there's a catch; when I hear people think, I only hear the things about me. For instance, Lee Frendar, the most popular ninth grader in my school, always thinks things about me.

One day during English, I heard her think How can I insult Riley Smiles today? So, after class, I went up to her desk and stood in front of it while she was gathering her things. I told her that if she even thinks about insulting me, my football star brother Austin would be on her like a bloodhound. Which totally freaked her out, and she never thought anything about me again.

But that hasn't kept her form saying things about me.

On a happier topic, my friends Milky Jagger (a.k.a, Max Kline) and Star Power (a.k.a, Jessica Hourse) help me ignore these types of things; they know about every strange thing about me, from my larger lungs, to my epicly awesome powers. Milky-who's gay, incase you were wondering- listens to all of my problems. And boy is he a good listener.



Star helps me control my anger at people. Since I'm only 14 and a half, it's easy for me to loose control over my powers. So, Star-who's straight and in every one of my classes, right down to Study Hall-is always sitting next to me, teaching me "the ways of the mind."



So, now you know about me. And now that you know about my strangeness, I want to give you a simple task: Don't tell anybody.

Don't tell your best friend, your boyfriend/girlfriend/soul mate, your parents, your dead pet, or even a rock. If my story is told to others, then my life- and yours, if you survive to the end of this- will be in jeopardy. So, as you read this, keep that in mind.

Now, we'll begin the tale of My Strange, Magical, and Mythical Life.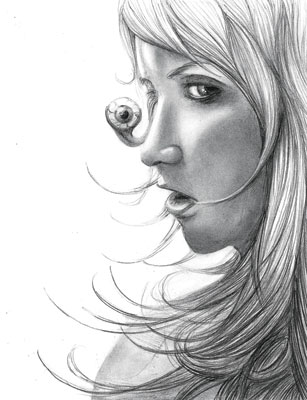 © Jessica P., Bethel Park, PA