feathers.
January 4, 2011
The night was approaching the witching hour when I finally stepped into the clearing; the stars were shimmering against their black canvas, the moon was casting its reflection into a small pond, and a gentle glow decorated the scene in a pale, eerie light. A thick forest surrounded the glade, emanating an air of seclusion to the open area. Somewhere in the distance, the mournful song of a coyote rose up into the sky.

My feathers shivered as I stretched my wings out behind me. A gentle breeze was twirling around my body, and continually it ruffled through the locks of my hair and the barb of my plumage.

Reveling in the sensation, I closed my eyes for a moment and smiled.
Soon, I would be stripped of my wings and the sensation of the wind in my feathers would be stolen.
Soon, I knew, for the dell I now stood in was home to the most dazzling of Sins.

Opening my eyes, I gazed at the moon for a moment and then looked at the ground.
Feathers.
White feathers of all different sizes were scattered across the dirt -- hundreds of them, all lightly skirting about in the breeze.
Amidst the feathers were bones.
I didn't even have to wonder for a moment about what the bones had come from; it was quite apparent as to what they were. Wings.

Mine would join them soon.

Walking bare-footed to the edge of the pool, I gazed down a moment at my reflection and my wings, and then I made eye-contact with myself. A mess of emotions were lurking within those eyes; fear, anxiety, hesitance, doubt --but, most of all, a calm and silent acceptance of the inevitable.

I had arrived at the clearing, and it was time.

She arrived in total silence; I only knew that she was there when I felt fingers brush gently and suddenly across my feathers. Again I closed my eyes.

"You have come," she whispered into my neck, her voice sensual and her breath hot against my skin.
"Lust," I murmured quietly, and I heard a soft laughter from behind me.
"Indeed."

I was suddenly aware of a coldness settling on my skin, and I opened my eyes to discover that my clothes had vanished, leaving me naked. A blush coloured my cheeks, and I subconsciously folded my wings against my back.

She whispered in that same sultry tone as before, almost hissing as she asked, "Are you ready?"
I said nothing.

Running her palm along the leading edge of my wings, Lust paused at the base -- where feather met with skin -- and then continued running a finger down my spine. I shivered, closed my eyes again, and concentrated on the feeling.

The fingers trailed back to my shoulders, and in a moment I felt the icy touch of a blade being pressed against me. Lust leaned forward and kissed my neck, and once again my mind was quickly seduced.

"This may hurt," she whispered into my ear, one hand closing gently around my wing to hold it in the place and the other controlling the knife.

It sliced into my flesh. A white hot pain seared through my entire body. I threw my head back and screamed.

Tears began forming in my eyes and a wave of anguish and hurt crashed on top of me, and still the knife carved further in. It wiggled around at the joint and it sawed through the cartilage, creating an incredibly gruesome noise. I could hear the sinews ripping; I could feel the blood spurting from my veins and speckling across my back. Blood was gushing in rivers from the wound, flowing down my body and staining the feather-strewn ground below.

For a moment my watery eyes dared glance down at my feet, watching as the little white feathers were matted by drop after drop of carmine.

Drip. Drip. Drip.

I began to get dizzy and lightheaded, but the deed was done before I could faint. With a sickening pop!, the joint disconnected, separating my shoulder from my wing and causing the latter to fall from Lust's grip and send a flurry of white-and-red feathers dancing up into the air around me. I watched the feathers in horror, not daring to look back at my discarded wing.

I felt empty without the extension; I felt lighter, weaker, broken.

The second wing was next.


After all had been done, I fell to my knees and my hands plunged into the shallows of the pool. I kept my eyes closed, afraid of my reflection, and winced from the pain. The stickiness of drying blood was all around me, and the stench of violence permeated the sweet freshness of nature.

Lust's gentle touch did naught to soothe my torment, and her light laughter sounded almost mocking.
"Beautiful," she commented lightly, and I could hear the smile in her voice.

And then I fainted.
It was done.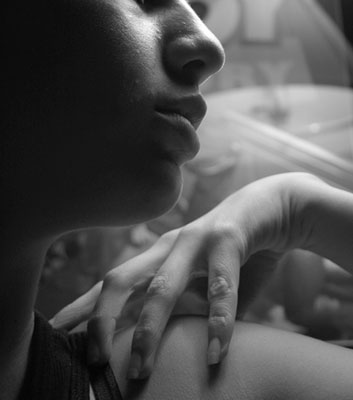 © Rebecca B., Santa Clara, CA