The Fall of the Humans Part II
December 31, 2010
The Fall of the Humans Part II: The Never Ending Waltz Part 2
2012 Years after Axel incident

Fire and smoke rose from around the large ballroom as the two dancers stared out the large windows. The huge gothic structure of the old ballroom smelled of dying spices as the dancers watched the robot walkers patrolling outside, killing any living soul they saw.
"We've been betrayed" the man dancer spoke.
"Yes, I am aware of that sad fact." The Lady dancer spoke.
Suddenly, the ballroom shook as an explosion rocked the building. Reaching out, the lady dancer took hold of the man dancer's hand.
"Are you scared, my dear?" The man asked.
Tears fell from her eyes as the lady dancer nodded. The man smiled and bowed.
"What are you doing?" The lady asked.
"May I have this last dance?" The man asked.
Sadly, the lady smiled.
"Yes" She said.
Rushing over to an old CD player, the man switched it on and listened. The slow funeral march echoed throughout the ballroom as he and the lady and their positions. His large hand was on her tiny waist while her short hand was on his shoulder. Stepping to the man's left, the dancers sprang upwards, step by step, and rhythm by rhythm, they twirled and danced, while the robots looked on, in curiosity.
"What are they doing?" One of the robots asked.
"Is that a lethal action?" Another questioned.
Finally, the song ended as the fires broke into the building. The mob of flames rushed up to the dancers and tried to desperately break them apart. The robots felt their insides melt as they saw the happy couple die in each others arms…while the song of death played out loud.

"Hey you!" A voice shouted.
The last of the robots turned only to see a rocket shoot straight at them. Exploding, the rocket melted into one of the robots…
…The Last Battle was here.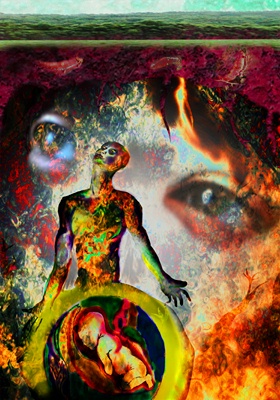 © Tom M., Philadelphia, PA