Part one; Introduction: Untitled
December 29, 2010
It's a good thing the fire doesn't provide much light in the clearing, because when Cellan remembers, he doesn't want his sister to see him crying. He turns his head away from her and brings his sleeve up to his face to muffle the sound. His blonde hair falls down past his shoulders and catches the bright show provided by the flames.
No one would believe that he and Ryna are twins. She's unbearably optimistic, with curly strawberry-blonde hair down to her small waist, porcelain skin, and bright, intense blue eyes. She stands out in crowds- not that they've been in a crowd for years. People are dangerous. Cellan won't let them get near anyone except their close friends; he's the voice of reason. His straight hair curtains his face and lands around his chest, right above his thin, flat stomach. He's tall, with lightly tanned skin and attractive features. Though she's attractive too, Cellan looks nothing like his sister.
"You okay?" Sensing his sudden discomfort, Ryna slowly removes herself from the chair she's placed almost too close to the fire. Cellan chokes on a "yes".
She takes this as a sign to kneel next to her brother's chair, which is immediately to the right of her's, and gently brushes his hair behind his ear.
"Cellan," she starts to whisper, even though they're alone, "I know you're scared. But they're gone now. I promise."
Cellan nods, but doesn't let up on the tears. He's a little more open about them now, knowing Ryna's already seen that he's upset.
"Ebony's going to be here soon, Hun," she says. She knows he's in love with her. In fact, Ryna knows absolutelly everything about Cellan. They've grown close in the sixteen years they've known each other, especially the past three. He starts to calm down a little.
"And… Cellan, mom and dad are okay," she starts, "I mean, there's no such thing as a heaven, but… at least they don't have to live here. You know what the government would have done to them. It would have been worse than what they already did…" She starts to stumble on her words. This isn't an easy topic for either of the twins. "But the people that did it are dead too, and… you saved me, Cellan. You saved me… they were going to…"
Footsteps interrupt her sentence, and Cellan dries his eyes and sniffles. Ebony's coming to join them, satisfied with the security of their house, which she's been working on all day. No one has ever bothered them way out there in the woods, but there isn't much else to do aside from finding something to work on. Cellan has his guitar, which is currently placed in its case beside the bucket of water they'll use to put out the fire, Ryna has her entertaining (she makes up monologues and memorizes them, to be shown later to Ebony and Cellan), and Ebony has her building, securing, and designing.
Her slim figure materializes in the light of the fire, and she smiles a little. Ebony is absolutely gorgeous. If times were different- if things were still like they were when the three of them were children- she would be a model. She has the perfect hourglass body, with a large chest and hips and a small waist, long legs, and toned muscles from all of her physical work at the house. Her long, straight black hair contrasts her pale skin, and her bright green eyes are almost as intense as Ryna's. She's clad only in a navy blue tank top and skinny jeans, even though it's freezing outside, and her arms are crossed over her chest.

"Hello!" Ryna says cheerfully, offsetting the negative vibe Cellan's providing to the area. Ebony responds with a "Hey!" and takes a seat on the ground near the fire to warm up. Cellan gets out of his seat and drapes his black sweatshirt over her shoulders.
"Hi, Ebony," he says softly.
"Hi, Cellan," she says back and smiles, "Thank you."
Ryna finds this exchange adorable, but says nothing. She doesn't want to ruin the moment. Now that Cellan's jacket is off, she can see the scar that runs from the edge of his T-shirt sleeve down to his wrist… She involuntarily shudders.
-----------------
Everett slumps against the red brick wall. He's in an alleyway, waiting. The rest of them should be there shortly- if the rest of them survived. He thinks about where his life has gone. He used to have a family, a girlfriend… He closes his eyes and imagines her cotton-candy pink ringlets brushing his shoulder as her delicate hands make their way around his waist, embracing him. A sharp pain hits his chest, hard. He had tried to save her… He had tried to save them all.
But now Stella's dead. Now his entire family is dead- his five-year-old brother he remembers clearly. His blue eyes and tiny hands, the way he slept, curled up in his footie pyjamas, the way he said "I love you." in French, because he had learned it in kindergarten… seeing him for the last time, blurred through tears, as they shamelessly snapped his neck.
Everett squeezes his hands into fists, fighting the water in his eyes. He's the reason he ran. He's the reason he hid for a year until joining the rebels.
So many of them are dead now, because they killed James.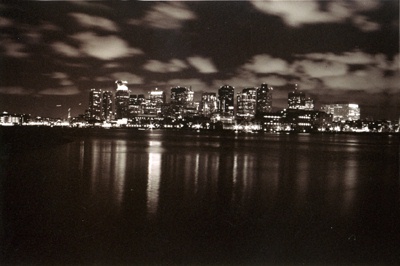 © Hoang P., Rochester, NY