The Day I Longed For
December 8, 2010
It was dark and cold. I couldn't see where I was headed. I didn't know where I was, could not tell if I was alone or there were a million people here, staring, and stereotyping. I hit a wall, its wet. Where am I? Will I ever see light again? Every breath fresh air? Ever see my family, laugh and not be scared? I kept walking, for it feels like a million miles until I sit and rest. I have to keep going, I cannot stop. This floor feels so comfortable, so warm. My eyelids get heavy.


I wake up with a jump. Someone's here, watching me, breathing over me. A heavy breathing. The floor doesn't feel like a hard concrete floor anymore except it feels soft and smells sweet. Its warm, like the beach. I realize I haven't opened my eyes yet. First the left eye then the right one. There's light, not from a light bulb, but natural. This wasn't where I was last night; I never felt the sun kissing my back feel so good. I get heavy with sleep. I hope I am not somewhere different when I wake up.


"Stop mom, 5 more minutes." I mumble. Except it's not a poke, its more a soothing stroke on my head. Am I being rapped? I wonder. I jump up, hitting the stranger on my way up. I look around me, no man just hills, and hills of grass and one lonely tree.
"Did I die?" I whisper.
"No, you didn't." A kind voice says behind me.
I whirl around meeting my eyes with a handsome twenty-year-old man. Thin, dark hair and blue eyes.
"W-who are you?" I ask, backing up every second.
"My name is Richard Ferguson." The smile on his face never fades.
"No! Is this some kind of joke?!" I yell running towards the tree in the distance, tears running down my face.
I get to the tree, dropping to the ground, wailing.
"How could you!" I yell. I'm not sure why I am crying this hard but for some reason it feels right. This man, Richard Ferguson, is not my grandpa. He died and he is an imposter. I peek out through under my hands and notice he's walking towards me. Slow and limping. Limping as if he has knee troubles. Just like my grandpa.
"Are you alright?" He gets down on the ground and sits. Right next to me.
"Why are you here? Why now? It's been a year since..." I couldn't bring myself to say it.
"Since I died." I nod my head, not meeting his eyes. I cannot, it will go away. This is just a dream, I tell myself, this is just a dream.
"No, this is real life." Did I say that aloud?
"No, when you've gone to heaven, you can read your family's mind."
"Great." I mumbled.
We sit there, sitting close to each other, thinking.
"Well," He gets up. "We could stay here and waste our day together or we can go out and have some fun."
"Wait," I stand up next to him. "What?"
"I came back down to spend another day with you."
I stare at him in shock.
"Why me? Why not Grandma or mom. Aunt Kar? Uncle Jeremy?"
"Now, do you really think your grandma can handle seeing me, like this?" The playful smile I always knew showing on his lips.
I crack a smile. I can't help it. I missed it for so long.
"And besides, remember those dreams where I appeared right after you died?" I nod, those dreams, so vivid come back all at once. Waking up during the night, crying.
"It was just you who I visited. Something different is in you. That's what's making me hear today."
I sit back down, my head in between my knees. Is this the truth? A whole day with my grandpa?
I stand back up, taking a deep breath. I push my hair out of face and say.
"Alright, if this is the truth, I am ready. What are we going to do?"
"Well, that's up to you. What is one thing you, anything, in the whole wide world you want to do with your old papa?"
I think, hard.
"There's only one thing I want to do."


We travel back to 28th street, the colors blurring around us. We fall upright in the back parking lot of my favorite place to go with my grandpa.
"Are you sure?" He asks. I nod my head, certain. "Alright, you need to go in there and get us it and then we can go somewhere and enjoy it."
"What? Why won't you come in?"
"Your grandma is in there." He says and I noticing her Silver Edge for the first time.
"B-but she never comes on this side of town."
"She decided to come today."
"You're young, she won't tell the difference."
"We knew each other when we were both twenty. She'll recognize me the instanced we walk in the door." I look from him to the door. I've been hoping for this day forever.
"Fine, I'll be right out."


As I walk into the building, I crane my face to the left hoping she doesn't see me. The smell of donuts hits me in the face full forced. Marge's Donut Den. I have been coming here since I was little and every Wednesday, my grandpa would take us here and get a donut. I approach the counter and order two plain cake donuts to go. My favorite.
"Thank you." I say and walk out there as fast as I can.
"Ariel?" I hear behind me. I breathe out and turn around.
"Oh? Grandma, I didn't see you. What are you doing here?" I put on a fake smile.
"Getting a donut." She says, eyeing me.
"Well, me too. I must go. See you later." I say and turn back around.
"Your mother is here too. Don't you want to say hi?" She asks. I freeze, mid step.
"Um, why don't we keep this between you and me? Not say anything to mom." I blot right out of the store.
I approach my grandpa and hand him the bag.
"Ready to go?" He asks.
"Yeah." I turn around, look though the store, and see my mom and grandma talking. She points out of the windows and looks right behind me. The dawn of recognition comes across her face. Then were gone.


We are sitting on a park bench, just talking. Watching many people walking their dogs, others strolling and holding hands. The sunset coming closer and closer to the horizon. Getting brighter and brighter every second.
"I guess this is the time to say goodbye." My grandpa finally says. I have been dreading those words all day. It's like taking a knife to my heart.
"Will I see you next year?" Tears pouring out of my eyes.
"No, only every ten years we can come down. I'll see you then." He stands up, and I hug him. My stomach getting tighter with every word.
"Tell your grandma I love her."
"She already knows that." I take a deep breath, trying to compose myself.
"I love you." He says.
"I love you too." I whisper, can't believe this day is over.
With one last finally hug, he lets me go. With that, he walks into the sunset, and I wait for ten more years.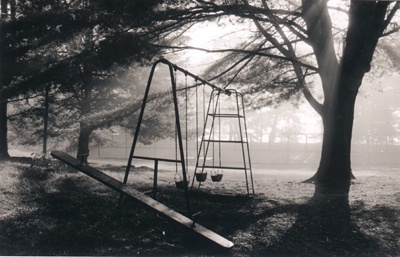 © by Steve S., Marblehead, MA