Raksha Drache's Quest Chpt.8 Prt.2
November 14, 2010
We both laughed in my slowly tireing body. I guess we're more alike than we thought. We should share our body. We could really help ourself out. We said together, again.
How about this? I'll be our magical brains. You should do the rest, but we need to agree more. Before you make any huge decisions we should agree on it or wait to make it until we've discussed it alone. Is that a good idea? Raksha said.
Hey, what do you know? You aren't so stupid after all. That's a great idea, but what about Jesse? I love him and I'm positive you do too. I remarked.
Of course I do. If I don't then I agreed to marry against my will. We magic people keep up with human civilization. Fathers haven't been able to pick who their daughters married since humans passed the law. Mom wouldn't have married Dad then. She would've been married at sixteen, like us!
Okay... Totally off the subject. What do we do?
Go back to our suite. He's heading there with Austin and Carli. They got worried and found him fuming outside this door. Tears were and are in his eyes. He's hurt. Badly. She said, clearly not wanting to say anything that gave me proof that her silence was a very bad deed.
How do you know? I asked, incrediously.
Dragons can see what other people are doing if they're away from them as long as they've met the person first. Kind of like a walkie-talkie with a video camera of the other person on it. Really cool!
When we're alone you have got to teach me some of our powers! I'm a bit behind and I'll never remember it all. Let's go to the suite.
Okay, I'm going to disappear. I'm still here, but you can't hear me thinking with you. If I wan't you to know something, I'll telepath it. We can communicate like telapathing. It's exactly the same except your talking to yourself. Raksha answered.
I came out of my mind to see that I was still crying, but my Mom was looking at me awakwardly. "What?" I asked.
"My telepath was still on and I heard... Something. Were you... Talking to yourself?" '
Raksha, did you know she was listening? I commanded, blocking my thoughts from Zanna.
No, I was too busy talking to you. Sorry... Raksha replied, sheepishly.
Should we tell her?
"Ummm... Would you believe me if I said no?" I asked, staring at the ground.
"Well, since you're blocking your thoughts from me, no, of course I'm not going to believe you. Raksha, tell me what's going on. Having two minds isn't normal, nor is it okay."
It's your call, Raksha. I said.
She deserves to know. Raksha stated.
I agree. I removed my guard.
"I think I have two minds and people inside my head. In fact, we know we do and they're both your daughters. Raksha and Arri. Although it seems like were playing each others parts at the moment.
"We think it's because our minds have been modified in to two parts so much that you created two seperate identies. Identical identities. Our minds are just a little different. Raksha's past and Arri's past. Raksha's smarts and Arri's smarts. Two different strengths, two different people, and definitely two different daughters." I said those words as Raksha spoke them in our mind. It was getting harder for us to tell who was who half the time.
Zanna looked older than we had ever seen our Mother. "That's what Aunt Po meant, wasn't it? It's like you have two minds now. That really should be rough." Zanna laughed. It was the last thing either of us, her daughters, had expected.
"So what should we do?" We said, telepathing together. It made a sort of double echo to our voice.
"I've no clue, but it seems you two have your minds set on the suite. Maybe me and Mason should walk you there. We could talk more and tell Mason. Your Father might know more than me. We're almost the exact same age, you know.
"Technically about a thousand years, but who's counting. Hmph... He suprises me sometimes though. I'm glad you two know what you're doing. Sort of... Tonight we should talk to Aunt Po. By then everyone who's going to be there's going to know.
"Let's go get Mason." Zanna walked to the door, as Sorsha and I followed. Just as I was about to close the doors Nikey scampered through and jumped on my shoulder and started playing with my hair.
We'll be here for you. Nikey telepathed.
All of us will be here for both of you. Sorsha purred, rubbing against me. And trillions of agreements were telepathed over.
Just because you aren't our old Raksha, your mind and hearts feel the same. We all love you both, equally. Your father has said it, once you love someone you never truely stop. Jesse will come around. Once he's dug himself out of his pile of hurt and sense of betrayal, he'll remember that he still loves you. A lot. You'll see, baby girls. You'll see... Sam said, sounding so much like Mason.
Thanks Sam. We both love you too, and all of you guys. No matter what happens, we'll remember we still have you guys there for us. We love you all.
Their replies came, filled with love and emotion, but both of my minds couldn't read them. The Arri in me took control of our body and followed Zanna. The Raksha in me started replying to her main fuzzy buddies. Raksha was enjoying it so I just ignored their conversations and followed my mother.
I remembered that my mascara probably had smeared and fixed it with my new, irresistably awesome, Dragon powers. Zanna called to Mason who was sitting on the ground down the hall. He got up and joined them.
"Raksha, your telepath's confusing me. What?..." Mason looked at Zanna and me. He looked tired, too. His emotions showed he was really confused and really tired.
"Yeah. Sweety, we've got to tell you something." Zanna told him.
"I have two minds. Raksha and Arri. They're two different people with one body. They both love you though. We have an idea how it happened." We both said. Raksha decided to come back to reality and help me through this difficult explaining.
"We three think it's because we erased their minds so much, that we created a whole different person. This time is going to be the last time, though. Two different identities live within Raksha's body. We have two daughters now." Zanna said, finishing for us.
She seemed happy. She was trying to tell Mason what was going on quickly, but still trying to make him think a little good of it. God knows they weren't going to have anymore children. He didn't look as excited though. He looked... Kingly. Reasonable. Responsible. Orderly.
"We have two daughters. I see how it's sort of a good thing and I think it's... Okay, but what about Jesse? It's probably the wrong person to be thinking about right now, but Jesse needs talking to. If you tell him you have two minds he's not going to know who he's going to love. Arri and Raksha may look alike, but inside you're different.
"Raksha would've never agreed to tell him. Arri knew right away that she wanted to tell him. In my opinion Arri's stronger and a little more boyish. Raksha's strong, but she's definitely girlier. You have different smarts, too. What are you going to do about that?" Mason said, trying to sound fatherly, yet they knew he had a point.
"Well, actually we thought, if Aunt Po can't do anything to help us, we'd just be one person. Raksha's mind can help our body by her magical smarts and her personality. My mind can help by my smarts and my strength.
"We don't know if there's anything else to do. We can't just vanish our other mind. We don't think it works that way. We can live with it and if Jesse can't, we still love him, but we can't be with him if he doesn't understand." Raksha and I said, with a bit different words.
"Okay.. Actually that's not okay. Being a man, I know he's not going to understand. He wants his Raksha back and if he knows she doesn't even exist anymore, he'll freak. He loves you, but he can't love both of you. I know it doesn't work that way."
He had a point. A good one too and we knew it. We'll deal with whatever he does when it happens. We'll deal with it together. Raksha and I said, telepathically, at the same time. We blocked it from our parents though. We both knew they wouldn't understand.
I don't care who he picks. There's other fish in the sea and I'm sure there's not going to be just one perfect fish for me. I said to Raksha, but I hid the fact that I did care. I loved him, I didn't know if it was really love, but I knew I cared for him. Even more than Raksha truly did. That I was positive of.
She was used to guys being around her, but I really only knew and loved only one. The other guys were games, toys, mere mouses in my lioness trap. If Jesse walked away from us, I would break and my Mother, Sorsha, and even Raksha wouldn't be able to help me then. Not completely.
I thought of something though. Jesse couldn't pick. There was only one Raksha body. Two Raksha's, but just one body...
I know what you are thinking... We're the same. We think the same. We're sisters, only more great. We are one. Raksha said, knowing I was going to.
What you're thinking is true though... You love Jesse more than any world, even though they may both be your own. I love Jesse because he loves me. Thats mainly the only thing we have in common. There is other fish in the sea for me, maybe... But I can tell, Jesse is the one for you. You guys need eachother at the moment.
If it comes down to it, and Po knows a way to fix our mind problem, if one of us has to leave, it'll be me. I have no body, only memories of what once was. I know Po knows a way, but Po's mind is so powerfully blocked, I can't tell if it'll hurt one of us.
Please, don't argue. I've done nothing noble in my life, unless you count partying all hours of the night, vacationing with my family, and crying into my father's shoulder at a couple of vampire hunters. Raksha said.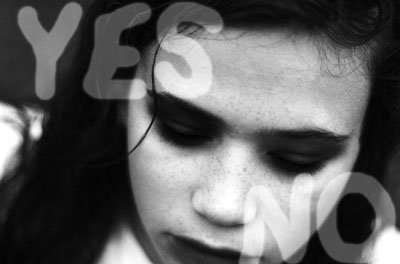 © Sandy H., Woodbridge, CT