Raksha Drache's Quest Chpt.5 Prt.2
November 14, 2010
Now what I didn't get was why I was acting all googily for this complete stranger. I'd seen cute boys before at Camp and at the mall with my friends but... He was different. He looked gorgeous just standing there. The only thing I could think was how stupid I looked standing there.
His face was perfectly shaped. There were no flaws. He looked like he had never had a pimple in his life. I wondered why he was even a pool boy in the first place. He looked more like a prince. A perfect prince...
His hair flowed swiftly in the sunny days' wind. It was black with a blue tint. CUTE! He was wearing blue swim trunks. His shirt was off, showing his perfectly carved six pack. He literally looked like he was chiseled into a statue that moved. He started to walk towards me on his thick, muscular calfs. His abs rippled in the sun. I almost fainted again. Wait... I did.
I instantly felt like I was Raksha. I watched as my rescuer saved me. My legs gave way like jelly and I fell to the ground. The cute boy swooped in and caught me right before I fell and almost hit my head on the ground.
The boy carried my unconcious body into my new room and settled my body onto the bed. He layed me down softly and carefully. He opened my mini fridge, near her bed, and set to work on an icepack for me.
He rushed back to my side and put the icepack in my hand, placing it gently to my face. He ordered a maid, telepathically, and she came quickly to his aid with a platter on which stood a fresh pitcher of iced tea, two cups, a sugar bowl, freshly cut lemons, and a spoon. The untensils were all gold and looked like they had been carved from angels themselves. The maid disappeared without a word.
The boy took the icepack off my head, placed one hand on my shoulder and the other on my head. "Wake.", he said in a rather older, sophisticated man's voice. It was too familiar. I woke instantly and slipped into my regular concious, and stared into his sapphire blue eyes and almost fainted again.
"Hey. Hey, Raksha? Darling, can you hear me?" The Pool Boy asked me.
"Uh... Yeah. I guess. Who... Who are you?", I asked him back.
"What?! You don't remember me? That can't be unless... Did your parents erase your memories again?" The Pool Boy said.
"Yes. But... But who are you? Are you my pool boy?"
"Goodness no. I'm your fiance.", Pool Boy said, suprising me so much that I feinted again. Pool Boy repeated the process of waking me, but before I had time to sit up and talk, he poured me a glass of the now ready tea, stirred some sugar in it, and gave it to me.
"Here. It might help you cool down and get yourself together a bit. So... You really don't remember me?" When I shook my head, he continued.
"Well... My name's Jesse. Do I need to help you a bit with magic?", Jesse asked, helpfully.
"Yeah, that would help me. A lot. So you're my fiance? At least I know when I was a princess, I had a great taste in boys." I joked. Raksha wouldn't answer my calls so it looked like I was on my own on this.
"Hmm... Yeah. Do you know how the process goes?"
"I'm pretty sure. It's happened a few times today, already. At least."
"Okay. I'm just checking." Jesse put one hand on my heart and the other on my head and said, "Remember me."
When I closed my eyes I saw visions of me and Jesse meeeting at a wonderous ball. The ball room was so white...
Another vision of us dancing at midnight, under a fool moon, in Raksha's castle garden. Then another of Jesse proposing to us in Jesse's own personal garden. His eyes as blue as the stones on the ring...
Another of Raksha and Jesse kissing at the edge of my swimming pool and Moonstar, Jesse's pure white wolf with ice-blue eyes, running and pushing them both into the pool. We came up still kissing. Moonstar barked playfully and they both started cracking up laughing, then kissing some more...
I opened my eyes just to be able to look into the real sapphire-blue ones that had been with me through so much. My Dragon powers told me that Jesse was feeling abandoned. He felt that this had happened too much.
I had a sudden urge to kiss him even though the Arri in me was feeling nauseous because this was my first time ever feeling like this about a guy. I didn't know if his urge was just going through my mind, making me feel what he, or Raksha, was feeling but I couldn't resist the urge any longer. I leaned in to kiss him just as he did the same.
I felt so much joy when he kissed me back. The kiss felt long and beautiful. Now I knew somebody. He was the first person I had met that I could remember everything about. Everything! No Blanks! With Jesse, I didn't have to act like I knew him. I knew him, and it felt great.
You jerk! You just kissed my fiance! Get your greedy paws off of him! Hes not yours! Hes mine. All mine. Leave me alone! Raksha screamed, suprising me by taking full control and pushing me the back of our mind.
I forced all my power into taking back control and I silenced her, rudely. When I'm in this body I have control. I'm sorry you don't, but this is my time. Obviously you couldn't handle having control or you would have it. I yelled at her, as she disappeared. I felt guilty, but Jesse was worth it. Jesse?
The kiss lasted forever. Forever's memories flooded into me. When Jesse let go, I felt like I was gunna' die, but I knew Jesse wouldn't let me stop breathing without a fight. Or CPR.
"So you remember me now?" Jesse asked with a little bit of worry.
"No. I just kissed a complete stranger whom I've never met in my life. Yes, I remember you. Fortunately, I remember everything about you and Moonstar." At the sound of her name, the she-wolf came running from the balcony and jumped onto my bed.
Realizing one of her owners was back made Moonstar very excited. She expressed it by licking me everywhere she could. Jesse and I both knew Raksha was the only girl Moonstar would let him be with. That was great, because Raksha was the only girl he would ever want to be with. I felt guilty but... I was Raksha, right?
The next thing the three of us knew was Jesse and I laughing, playing, and watching Moonstar howl with joy on our bed. Then Jesse and Moonstar were play fighting and I was the one laughing. A knock at the door made all three of us stop what we were doing and look at the door. "Come in." I called.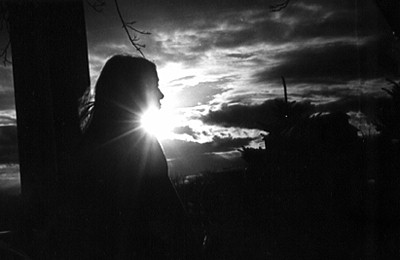 © Elizabeth G., Marblehead, MA