The Last Dance(Part1)
November 12, 2010
"Sky, who are you talking to the dance?" Jayda asked me.
Three other heads swiveled towards me, all asking who I was taking.
"No one. I'm not going" I answered.
They all gasped as soon as the words left my mouth.
Whoa-backup a little, Skylar. Wanna know about Jayda? She's average. Average height. Average weight. Average facial features. That's why she also has snake bites in her lower lip.
"C'mon, Sky! You have to go to the dance!" Jayda said, a hint of plead in her voice.
"Why?"
"Because, you could go with-"
"No."
She meant Tyler, the guy that I've been crushing on for the past few...years. I know what you're thinking: WHAT?! MOVE ON, GIRL! But, it's not that simple. He's in every last one of my classes. His locker is one locker away from mine. So, it's kind of hard to avoid him.
Oh yeah. And he's my best friend.
Well. Other than Jayda, Kelly, Alisha, and Stacey, of course.
"Sky, is this because of the whole 'You have to wear formal attire' thing?" Kelly, who is the exact opposite of Jayda, asked.
"Nooo....Okay, maybe. I just don't know where I'd get my dress from. And what money I'd use."
"I'll help with that! I can even come with you to make sure that you don't back out on us." Alisha said.
Alisha. She's got cocoa-colored skin, pitch-black hair, soft facial features, and wears a lot of jewelry. Seriously. The only things that she doesn't wear are, well, piercings. As for Stacey, she has a skull piercing in both her right nostril and left eyebrow. She has blue hair-that's right. Blue hair. Crazy, right?
But, then again, that's why they're all my best friends.
"...Fine. But Ty;er has to come too, or he'll feel left out." I said.
Everybody squealed, making people around us turn and glare.
As conversations about dresses and shoes stared around me, I tuned out. This would be the perfect time to play a little Catch-Up.
Ya see, all four of us are best friends, as you can probably tell. We do (mostly) everything together. Heck, sometimes we even like the same guy. But, there are times when I wonder if they remember that we're-
Hold that thought, Sky.
I saw something in the corner of my eye. I look over, and Alisha's tail was hanging out.
My eyes widen and I quickly whisper to Alisha," You're tail's hanging out, chicka."
Her eyes widen and then her tail is gone.
Oh yeah. One little fact that I forgot to mention about me and my girls here.
We're all 98% human, and 2% feline.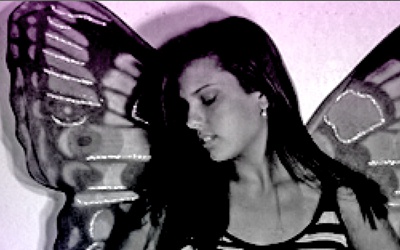 © Kathleen M., Rowlett, TX