Not Even Satan Can Stop Love
September 30, 2010
The day I was d*mned was the day she was saved.

I writhed in the new skin. My limbs were too short, my body too small. Even though I knew that I could've gotten out, I wouldn't let myself drift away from the world. It was hard, staying grounded to the floor, when I knew I could fly away. People didn't seem to take notice, but from what I observed, I wasn't exactly a common sight. These city people could ignore anything, too arrogant to recognize that I existed. Or, dare I say, that I might need help. Not that I did.

I knew we'd done our job well.

And then there she was at the moment I had watched so many times… When I first spotted her death something caught me off-guard. As the car jammed her into the bumper of another, she didn't frown. Grimace, maybe, but that was a reflex. I wondered if she knew it was coming, but she couldn't have. We'd made sure of it. In my feline body, I did I sort of cough-meant to be a laugh-at the transparent "psychics." They were a win-win; good news meant false hope, destined for disappointment, and bad news meant eternal foreboding. I coughed again. What a miserable existence, not even being able to laugh at a good joke.

And then I was next to her. I could see the car in the distance, accelerating.

She looked down at me as I sat, glaring at her, on the sidewalk. The cracks in the cement all seemed to come from my body and run outward, like a tree taking root. After a moment, she actually looked surprised, as if she knew that I wasn't supposed to be doing this. How did she know me?
All of her life… so miserable, yet her, stubbornly happy, like a sort of clay that always went back to the same shape no matter what you did to it. She was so defiant that even I had to respect it.

She looked beautiful. Her wavy red hair shone in the sunlight and whipped around in the wind, but it seemed like something more majestic. Her face, although surprised, showed content in whatever was to happen. She was wearing a woman's suit, but I couldn't think of anything more attractive at that very moment.

I purred, and she kneeled down to give me something out of her bag. It was half of a tuna sandwich, presumably part of her lunch. Did she know that I wasn't a cat? Nevertheless, I was hungry in my body, so I ate. She watched me, but she stood up before I was finished. Immediately, I looked up and saw the car. It was so close, and she was stepping onto the road…

I ran in front of her, and she tripped. I slowed down the moment and felt my claws coming out and a yelp emanating from my throat. I felt annoyed for a moment that I had to keep the instincts of a lowly creature when appearing as one. It was demeaning. However, they say it helps the disguise.

But I wanted her to know who I was.

Her face was in total shock as she fell to the ground, short of where the car could hit her. She began to stand up, but I ran to the middle of the road and sat. I quickly turned to her, because I only had a moment. She stood incredulously, not bothering to move the hair out of her face. Her clothes were dirty, and her bag had spilled its contents in a puddle. She only looked at me. I only looked at her.

I sensed the car getting closer… only a second to show her what I'd done. My fur changed to a dark, blood red, and now only I stood as she didn't show shock. She knew what I was, finally and completely, and she was content with it. She mouthed two words:

"Thank you."

I purred in delight as the car threw my body into the air.


They allow me to look back on the day occasionally, only to remind me why I'm here, in this prison. Maybe they want me to regret it. My skin burns now, but they don't seem to know that I don't mind the feeling. She taught me to be this way, and so I am.

Sometimes I can see her. She has a husband now, and beautiful children. She's raising them to be like her, and I hope that it'll spread and spread until the world is consumed by the flames of happiness. Maybe then I will be allowed to leave.

She's even happier each night as she talks to me, sending messages of thanks. Not even Satan can stop love.

So as I sit here, burning for eternity, I am content.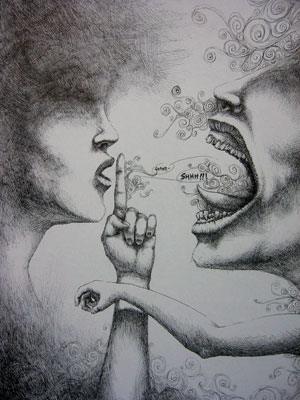 © Andrew M., Apple Valley, MN