A Young Girl's Fantasy
September 18, 2010
Every young girl dreams of a prine to rescue her from the lonely dungeons of reality. Me...I was rescued a couple times, but the knights were too weak to slay the dragon guarding my heart at the end of the journey.

And each time a knight failed to finish my rescue, I was scarred with the hurt and the pain of the knights dying and leaving me with a gap in my heart where the young innocent girl inside me grew smaller and smaller with no hope of my heart being whole.

All but one died from the firey breath of the terrifying dragon. And that one had known the dragon's every kept secret and each of it's weaknesses. So he faught with all his might, and finally his work had paid off. And once the dragon took it's last breath my heart and his were bound together for the rest of eternity.

The young girl inside me, that was once filled with such negitivity from the heartbreaks of each knight that failed, grew into a bright, beautiful young lady. And she blossemed and became the princess I had dreamt of since childhood.

But what the princess didn't know was that not all fairy-tales end like they do in books. And once her life was just about to turn down a beautiful road to love and happyness, the Evil Witch of Reality came and met the young hero and cast a spell on him to never be able to see his beautiful bride-to-be.

And so before he left on the long empty road of exile he wrote his love a letter. He wrote the letter simply and unemotionally saying good-bye without an explination or reason for his departure. And so... when she recieved the letter, the hole in her heart grew 2 times it's size with each tear that she weapt.

She had given the prince everything she could possibly give to him and he deserted her, and left her with the cuts and bruises of the old wound of hurt and loss opening up and slowly killing her agian.

She faught with all her might to deny the reality of his departure but each time she tried, she failed and soon became an old lady sitting in a tower with a knew dragon to gaurd her never healing heart.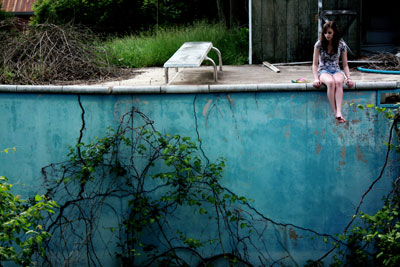 © Myra K., Somerville, NJ