The tale of the robots Part I: Axel
September 7, 2010
The tale of the robots Part I
Axel


The smell of rotting flesh filled the air as the man dressed in a blue shirt with brown pants ran. Sweat poured down his face like a waterfall. Scanning the darkness with his pale blue eyes, the man looked for the light switch. Switching on the lights, he gazed around the large room. Several objects were floating in mid air. Chairs, old potatoes, a couch, a towel, and a piece of rotten hamburger floated in the air. Standing up, Harry felt himself begin to leave the ground.

"Leave me on the ground." He yelled out loud.

Then, as if by magic, Harry fell to the ground and stayed there.

"Open the bay shield, Axel." He yelled.


"YES SIR" The robot said.

Soon, the room was surrounded by a purple, pink, and green nebula. Sighing in relief, Harry walked up to the door and opened it. A long white hallway extended as far as he could see.

"For a stolen space ship, this isn't so bad." Harry told himself.

Passing by a large television screen, Harry stopped and watched as an elderly man dressed in a black suit looked at his viewers from across the universe.

"The masked thief is still at large." The man said, "A Fifty million dollar reward is still in place for humans and robots issued for his capture, dead or alive."

Laughing, Harry put his face to the screen.

"I'm right here!" He shouted at the screen, "Come and get me!"

"Excuse me sir" Axel spoke, "Maybe we should go over there and possible give up. I'm getting to old for this kind of work."

"You are only one and a half!" Harry shouted.

"Yes but we robots only live for two years, that's the law and I want to go to Miami or Mars before I die."

Sighing, Harry rolled his eyes.

"You'll be recycled and possible end up there anyways!" Harry said, "Now help me with the airlock; I'm going to go out and repair the burn mark on the bridge."

"Can I get time off after that?"

"No, you're a machine, you don't get time off!"

Harry did not hear the growling of the engines or the hissing of the doors behind him. Walking into the airlock, he opened up one of the doors.

"Give me a helmet, Axel." Harry spoke.

No response. Suddenly, the airlock opened. The vacuum of space sucked Harry out. His lungs collapsed almost immediately as he was projected outward. His world began to go black as the sound of a metallic laughter echoed through the empty halls of Axel's ship.

***

"Today" the man in the suit spoke, "the body of Harry Houli was brought to the local police station at Miami, Mars. The cause of death was unknown as the robot of the ship, Axel swore that he just fell down and died. More details at 11: 00 P.M.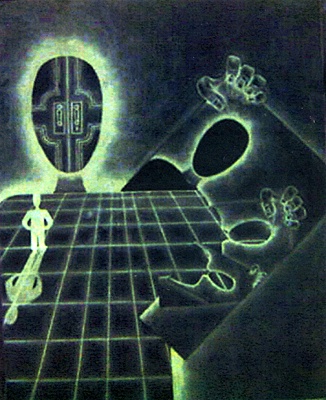 © Andrew P., Muleshoe , TX