Gwendolyn
July 20, 2010
A small dirt path started out high in the mountains, grew into a small lane, and wound its way down towards the earth. Gusts of wind mixed with the dirt, creating small tornados that spun around lazily before disappearing back into the earth from which they came. The path continued on, the dirt lightening almost to the color of the southern beaches, before spreading into a small road that cut through the center of a large grass field and continued down a hill and out of sight.

A petite girl lay in the field, looking towards the sky to count the stars. When she reached three thousand she stood, walked a few feet to her left, and lay back down to start again.

The wind came down from the mountains and blew into the grass, whipping her silvery hair above her head, making it a glowing mane of light in the darkness.

In the shadows at the edge of the field, five men waited, watching her. Their long black cloaks swirled around their ankles, catching in the high grass and scratching at their skin. They stood still however, not succumbing to the irritating sensation. They could not risk alerting her of their presence
Although they knew she was what their master wanted, they could not bring her to him, not yet. Neither their party nor hers was ready for that.
After reaching three thousand again she rolled onto her stomach and drifted softly into sleep.
From the darkness a man stepped forward. Karh, the leader of the five, soundlessly approached her. Looking down, he stared at her with nothing but curiosity in his eyes. She was beautiful, to be sure, but even after many months of watching her, he understood neither her lifestyle nor the reasons behind it. She lived alone, in this field or one like, although she could be no more than sixteen years old. Her parents, either simply gone or dead, had never been seen by any of the five, and she had not visited any sort of home that they had seen in their months of tracking her.
He knew as well as his companions what she was, and that it was the probable reason they were watching her, but he could not explain much else and that upset him.
Sham, another of the five, came forward to stand beside him. They stood silently, both men looking down at the girl despite the darkness that should have constricted their vision. Just the silent rise and fall of her chest calmed them.

"It will be soon," Sham said, careful not to wake the sleeping girl
"Yes," Karh agreed, "It will be any day now."
"What does he want with her?" Sham asked, looking up at the older man.
Karh sighed, rubbing his hands over his face in quiet defeat before looking up and answering.
"I have no idea," he said.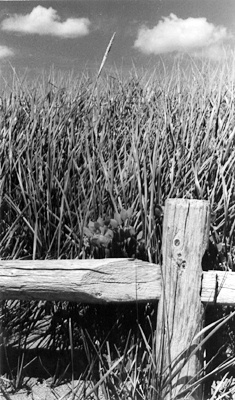 © Steve S., Marblehead, MA