a kings war prt 2
July 6, 2010
I quickly nodded, backing up a few steps to put some distance between me and her.

"Whats the matter, cat got your tounge?" Anya laughed cruely.

"N-no," I stuttered out. This is why I never found a man, or even a good friend. I was shy, and too selfconcious to ever talk to anybody.

"Sounds like it, but remember, you even think about getting in my spotlight as they announce mine and Syne's name for the guardianship, you are dead."

I gulped and turned a shade paler. I wanted out of here now, but I couldn't because the line was starting to move forward and we were going out in the arena. Out on the stage was our principle, a couple of the elite villagers, and the profits. All seven of the profits looked to be about in their 40's, but they were really over 200 years old, each of them. I looked away from them. They were the highest people in our little village, and they made up the council for our king. Right now they would choose the next guardians.

First things first though. We each had to get our diploma's as our principal called our names. We went through the whole graduating ceremony before starting the real one. As we finished we sat in the first few rows of the seats facing the stage. The music started, it was a slow drum beat. They used it every year as they introduced the profits, and every year it was the same speech about how we needed protectors in this world, how we weren't safe. I listened but my mind was elsewhere. I was thinking about my brother, Caedmon, or just Cade to me. He had become a guardian 8 years ago, but after 5 years he left. He was hated in the village. It was the worst betrayal here. Guardianship was to be respected, and you were in it for life, unless you forcefully break away.

"Now this year we chose two very powerful, and very respectable young adults for this years guardianship. They will go through training, before they set out on different missions. The first one, Syne Zador," The profit announced. It was no surprise everybody knew that was going to happen. The whole audience clapped loudly, some whistled. Syne's family stood up and watched him walk to the alter upon the stage while he swore his life to guardianship. There was even a little blood spilled to finalize it.

"Next, this young woman is powerful, beautiful, and smart. We have foreseen a great future for her. As we once called up her brother, we now call up Mecca Bahar," The profit said proudly.

This time there was no applause. Everybody was silent for about 10 seconds. Then an uproar started. Anya beside me was furious, she looked like she was about to lose her cool. Everybody had thought it would be Anya. Her father was an elite, and all of her brothers and sisters had become guardians. I stayed in my seat while everybody loudly yelled at the profit. This was crazy, nobody had once questioned the profit even with a choice like this, but now things were changing, we were moving into a new era.

"Mecca? Are you going to come up?" The profit asked. Beside him Anya's father was glaring at him.

"I know what you're all thinking. How could I make a choice like this. But as I said, we foresee a great future for her. She is our leader."

I gaped at him. Did he know who I was? I was the nerdy, ugly, shy little girl in the village who couldn't even make a friend. I was the outcast.

"Come on now," The profit motioned with his hand for me to come forward.

I slowly got up from my chair, hands clenched at my sides, and began taking slow steps toward the alter. Everybody was silent as I made my way up the steps. I walked to the alter, and stood there, not moving, not looking at the profit.

"Ah, my young one, come now, hold out your hand," I did slowly lifting my shaking hand above the alter.

"Now say the words," He ordered softly.

"I, M-Mecca Bahar, swear m-my loyalty and l-life to my g-guardianship as I protect and l-lead our world through this l-life," I stuttered through the oath. I flinched as he cut my palm and my blood spilled into the alter.

I stared down at it one second before moving to stand next to Syne. Everybody was silent as the elite's went off the stage and into the building first, the the profits, and finally Syne and I followed them.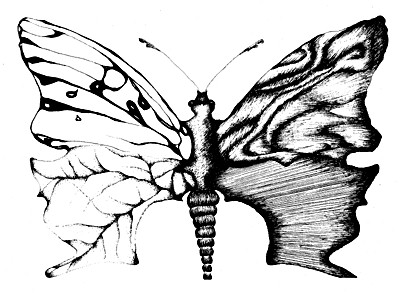 © Cara L., Cheny, WA