No One Stopped
May 26, 2010
A dissonant bell chimed from the Well in Town Square. Despite the size of the Well, the wake-up call was surprisingly loud, with a clang of contrasting sounds and pitches. Within seconds, four thousand Residents surrounded the Well, heads down, and kneeling on the cold ground. Flatly in unison, the people spoke Vows of dedication, and loyalty. Then, one by one, they tossed a pebble into the Well before walking steadily to their work stations.

Only one wrinkled man remained, still kneeling on the stone-covered ground. He was twitching and jerking- but making no noise. His weary eyes rolled back into his head to examine the twisted brain within, while his face twisted in agony. The steps of the passing people grew heavier, and more in-sync, as if to accompany the sick rhythm of the old man's suffering. Yet, no one stopped. No one so much as glanced back to examine the curious site taking place. After all, why would they? The facts were clear; his place in Society was already being filled by someone new, and the natural action to take would be to continue walking- as if he never existed at all.

Suddenly, a blinding light shot down on the crippled Resident, penetrating through his shrunken body in less than an instant. -And just as quickly as it came, the light was gone. The old man lay still on the ground, a filmy layer of relief veiled over him.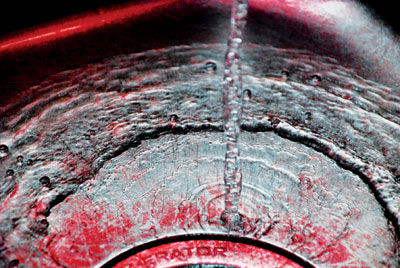 © Hannah B., Princeton, IL