The Things We Do...., Prologue
May 25, 2010
"You know you chose this, right?" he whispered, his voice silky in my ear.
"Yes." I replied breathlessly.
He sighed into my long hair with regret. Then the ice-cold of his soul crushing into my body left me screaming until I was out of breath, and fell to my knees as he took over. Then I lost consciousness, and succumbed to the darkness that enveloped me like warm wings. When we opened our eyes, we saw everything together, one person, two souls.
We stare at the perpetrator, and his fury overcomes all of my clarity. In that moment I knew we were going to kill Him, whether we wanted to or not.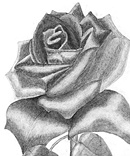 © Nghi L., Phoenix, AZ