Into Annabelle's world
May 7, 2010
Annabelle tilted her head and stared up the sky. Dark clouds were approaching and birds were flying close to earth surface. Several crows stood in a circle and devoured on a piece of meat.
Within a blink of an eye, a strong indiscernible force pushed her. It was too fleet, before she realizes anything, she had already fallen. Fresh, dark red blood instantly seeped out of her knee. The friction of her knee against the rocky floor had left her a blemish in the shape of a crescent moon.
She could see a blunt figure walking towards her. She panicked to get up. She realized that it was a woman as the figure continues to walk towards her in a ponderous speed. The woman was dressed in a long black dress with her hair tied up in a graceful bun. Her eyes are the color of the sea and her face was pristine. She was walking barefoot and slowly, the corner of her mouth rose as she smiled.
The woman bent down to face Annabelle. "Annabelle, my dear. Let the heavens join us in a song of joy." She whispered as she ran her fingers through Annabelle's silky hair. Her words echoed inside Annabelle's head.
Annabelle looked into the woman's eyes. A woman that looked like her mom was seen through the woman's eyes. That woman loved her daughter the way Annabelle's mom loved Annabelle. Then the woman was caught. She cried and struggled to break free. The captors killed her, right in front of her crying daughter. It was the exact same thing that occurred 7 years ago. The tragedy Annabelle remembers even though she tried to forget. Annabelle shut her eyes, refusing to see anymore.
"Leave me alone!" she cried out. The crows were petrified and flew away. The woman laughed softly. She stroked Annabelle's hair once again.
"Come with me and we'll seek for the eternal happiness." whispered the woman as she pushed Annabelle's hair behind her ear. The woman stretched out her hand, waiting for Annabelle to reach for it. Annabelle spurned to follow her. "I am your mother! Therefore come with me!" the woman demanded. A thunder struck and another strong force pushed Annabelle.
"You are not my mother!" Annabelle cupped her hands over her ears. She tried to stand up but the cut on her knee was too throbbing.
"Owh?" the woman chuckled. "You are an intelligent young lady. Amazingly beautiful too. You are right. I am not your mother. This is me, in your mother's body."
"Come with me and show the world your intelligence. Come or I will…" the woman pulled out a knife and was going to cut herself.
"When she was alive, she had been through a lot of struggles. Now that she's dead, can't you just leave her alone and let her rest in peace?" Annabelle pushed herself up and finally managed to balance and stand.
A dim orange light started to grow brighter gradually. It's the sunrise, the start of a brand new day.
The woman clenched her teeth. "I may not be able to get you now but I will, in the future." The woman stared at Annabelle with vexation and exasperation. Her flawless face starts to fade and wrinkles became obvious. The woman shrieked in horror and vanished in the beautiful beginning of a new day.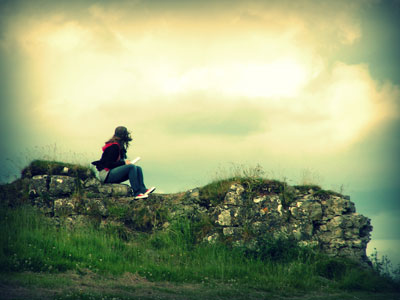 © Caroline C., Coronado, CA