Fallen part 1; Betrayal
April 18, 2010
Sunset cast a red glow; the fiery scarlet sun was just beginning to sink below the calm ocean waves that fell rhythmically on the horizon. Two figures stood silent just inside the reach of the gentle waves, their eyes fixed on the fading sunset. One was an incandescently beautiful girl. Her long, silky hair shone like the sun that fell behind the waves as it curled to her slim shoulders, her eyes sparkled like the ocean on a flawless summer day. Her skin was deeply tanned and smooth, her features delicate, almost fairy-like. She was too gorgeous to be human, and the full, white-feathered wings that extended from her slender shoulder blades were only proof of that. She was an angel if ever on lived. Next to her stood a tall boy, his dark hair brushing the ends of his eyelashes, an identical pair of wings coming from his back. His warm brown eyes were alert, every now and then flickering to the angel beside him, a look of anxiety reflected in clearly. He nervously crossed his arms over his defined, muscular chest.

"Anastasia?" he finally murmured, his voice concerned. "Please you can't sit here being oblivious of what is happening around you. You can't. It's too dangerous. You know how annoyed you're making Melody. I really don't think you should be messing with her. You might drive her off the deep end sooner than you think."

The girl turned slowly to him, her expression worried. "Zack, you know how I feel about this. They're my friends; they would never do anything to hurt me. Never! I just can't sit back and watch as Melody pushes everyone around. It's not fair and it's not in the least bit right." Anastasia said with certainty.

"I know they're your friends, but Melody is getting to the point where she wants your blood. I'm not about to watch you get hurt, Anastasia. Not by her. You must listen to me, please-"

"Stop," Anastasia's ice blue eyes darkened. "I can't say I trust them but I know how you feel, and I know they would never hurt me in any way. Melody would never go that far, I have faith in her still. She's still an angel after all. Please, let's go." She reached out and laid a slim hand on Zack's tanned arm and led him back the way they had came, their bare feet making trails of footprints in the wet sand. Zack sighed quietly in resignation, lowering his eyes from his friend's beautiful face. He knew she trusted too easily, that she saw only the best in every angel, even though some days, this was not smart. He knew all he could do was to stay by her side and protect her, keep her safe.

Beside him, Anastasia looked around the world she loved. The world where everything was untouched by sinfulness... or so she thought.

*
*
*
*



It was a perfect day in heaven, as it always was. The bright afternoon sun warmed the pale beach sand as Anastasia and her best friend strolled along the beach, tiny waves lapping at their feet. Anastasia raised her face to the sky and closed her eyes, basking in the sun's warmth as the light wind tugged gently on her golden hair. The day's plan was to walk to the farthest edge of heaven, where the beautiful beach sands and forests became an endless sea of fluffy white clouds. If you looked close enough when you reached the edge, you could see Earth below with all of its beauty and people. People! Anastasia inhaled the salty sea air deeply in her excitement. She had never had the even the smallest glimpse of a human, much less gotten to know one, but she thought very highly of them just the same.
The pair kept up a steady conversation as they walked along the water's boundary, and eventually a cluster of Anastasia's other friends joined them. Zack was not among them; he had not been invited by the girl angels. The girls were wise, they knew of Zack's protective attitude towards Anastasia, and they had quickly devised a clever plan to get her alone. Soon there was a huge group of them heading towards the edge of heaven. The clear air rang with angelic laughter.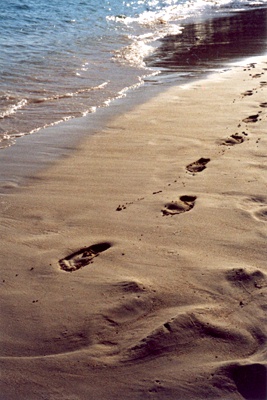 © Ashley B., Potomac, MD