Dragon Attack
March 3, 2010
The grass green destructive dragon soared over head. Flames spilled out of its mouth and onto the small frightened town below. The glow of the flames sparkled off its scales. "Where is Bill?" The citizens cried in panic.

In a grass hut on the outskirts of town Bill glanced out the window in his hut. There he saw it, the same dragon the fled their battle during the summer. The leaves were changing color. Bill grabbed his sword, frantically put his armor on, and slid his bow and arrows on his back.

Ten minutes after the invasion started Bill arrived. Almost half the town was in ashes. Bill whipped his bow off his back and loaded it. Zooooooooom! The arrow cut the stinky air. It struck the dragon. But instead of piercing the skin it simply bounced off.

The dragon tuned toward Bill. Bill was shocked the arrows had pierced many dragons skin. The dragon flew straight at him. He leapt. He landed on the dragon. He drew his sword. Squish! The sword smashed into its eye. The dragon fell out of the sky.

Swish! Bill hacked off the dragon's head. The dragon died slowly. Bill finally destroyed the horrible dragon. The small frightened town half in ashes had enough delicious dragon meat for a year.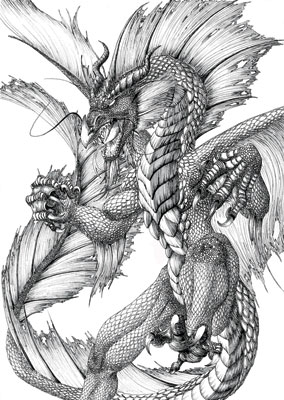 © Lauren R., Belmont, MI