Venarina
February 23, 2010
It was a calm and gentile night, when at last I, a baby girl, was born on an island called Malika. Both of my parents are the rulers of this land, and they called forth the gods to give them their blessings. When I was about two years old, people kept talking to my parents saying that I was someone special, and that they knew I was no ordinary child. One day Morgan, mother of all wizards, told them that something major was going to happen when I get older and I will be the cause. Well, the people and Morgan were right. When I was seventeen I did something because I was selfish and mad. The punishment caused something dear to me, their trust and their honor. In order to regain what I have lost, I had to go away from my home and do a task. Though it was dangerous beyond belief, it was the only thing I could do.
My name is Venarina and this is my story.

Chapter 1


The great pasture of Malika is full of life. I have a spot right on top of the highest hill that overlooks the pasture. On top lies a great tree called Calliana and to the fairies, known as the tree of wonder. I go up there every morning and sit in front of her. As I cross my legs and lay my arms on my thighs, I close my eyes and breathe in the fragrance. The air tastes so sweet, like honey. There I wait for the island to wake. As the wind starts spinning around me, I release my hair from its hold, and let it swim freely with the breeze. It's time to open my eyes and watch the show.

The trees wake first with the hum of music filling the air. The flowers bloom once touched by sunlight, and the fairies start to spring out from their nests and spin in the light. I can feel the warmth and the calmness that the tree….
"Venarina!" loud voice said in my ear.
"Ahhh", Ouch! She made me hit my head, "Well good morning too you to Lilly." I hate when she does that. She's lucky she can fly fast.
"O' stop rubbing your head, you didn't hit it that hard." In her high giggly voice, something's up. "So what are you doing today milady?" Sometimes her voice can be so aggravating, yet so beautiful.
"The same thing I do every day Lilly." Ever since I was born my parents keep me in their palace and never let me out. She keeps giggling. "Why are you laughing?" I ask, a little too harsh.
"Because, princess, I'm wondering what the King and Queen will do to you if they found out that you sneak out every morning to come here. They would…"
"And they shall never find out!" yelling now, "If you dare speak a word to anyone about my presence here, I swear, you will never sweep across these fields again." Her face as pale as it can be, gave no emotion. It frightened me. What evil came over me to speak such words to a fairy to my only friend? "Yes milady" was all she said in a voice I did not recognize.

"Lillianna, daughter of the guardians of the field, please accept my apology for my words, for I do not know what has overwhelmed me." I said in the most benevolent way possible. "Milady" she talks so softly. "Please Lilly call me Venarina. You know how much I hate being called in a name so high. I wish I could be one of you. I am nothing. No powers just a plain mortal." I said it with such tenderness as if a mother was talking with her baby. She broke into a smile.
"Venarina, I know not the burdens that seems to be weighing you down. You do not need to apologize for your action." There's the Lilly I know.
She sits on my shoulder and whispers something in my ear. "Tonight is the celebration of Calliana's birth. The shape shifters from the air and the earth will be joining us. You are more than welcome to join. I know how much you love her. It will let your mind rest with peace."

I said my farewell and started my journey back to my prison because it started to rain. I did not give her an answer for I do not know. I only sneak out in the morning where there is light. I do not know if it will be safe because I have never met shape shifters before. I always ask my parents why they won't let me leave the palace, and they always tell me the same story, the story of my birth. When I was young it scared me, I didn't want to leave my home then. I'm now seventeen and throughout my schooling I have learned about different islands, goblins, shape shifters, and others. It's magnificent! I am no longer scared.

My parents leave as they please to sit at the market and be with our people. They only let me out once a season with body guard. Talk about no privacy. I don't understand why they are so afraid. Can't they see I'm old enough now to make my own decisions? No, they treat me like a child. I know the story, and I believe Morgan, a wizard, will be wrong. I know better.

I climb through the hole which I built, a while back ago, that leads to my bedroom window. How no one knows about it, I do not know. I climb up the ivory and when I get to my bedroom I stand there looking into the mirror. I look so different, so sad. My hair is all messy from the wind and rain, and mud smeared on my clothes and face. I clean myself off and act as always like I'm happy, that I love living here, but I'm not. Right then and there I decided. I'm going. I don't care if I get caught. I will be at the celebration tonight.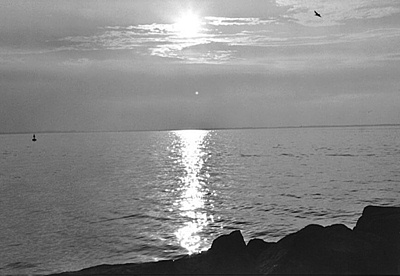 © Amanda L., Cumberland, MD