River Countorse
February 22, 2010
Weak light glimmered on the slivers of glass in the window sill, reflecting my pitiful face and ginger hair that encased my head with a thin layer. In the center were soft eyes glinting with tears, magnifying two large eyes that perfectly matched my hair; River Countorse's face. Below it rested a prim, small nose, and below that pursed, wobbly pale lips. And around all the features, equally pale skin made a canvas.

Standing up robotically, I could see the rest of my body, behind me a faded wooden wall, behind me a tangle of sheets, clothes, and other things I could gather without being half-killed for theft lay in jumbles on the floor. It was my little home, my lump of a bed, set in the center of a cramped little closet. My torn and ripped clothes, pieces of cloth illuminated by the rays of light through the holes in the window, showing a dark orange shirt, mixed with layers of a lighter shade, the sleeves torn to pieces. A hurricane must've hit Goodwill, is what you'd be thinking when you saw this shirt, but the pants were no better. Basic brown pants, to the knees, ripped in the same way. Her feet had no shoes, but were tightly bandaged with dirty white cast fabric.

Instinctively, I reached out for the glass, ready to massacre up my arm like she did all the time in this mood, when a shrill screech made me drop the sharp object in my hand, ready to strike, but now shattering on the floor. My brown head swiveled to the door or, the doorframe now, where one of her sisters stood in the entrance, looking at her with a face of pure shellshock. Just then, she fell to the floor, into the mass of foreign sheets, her back smeared with blood. I stared down at her with first, an unexpectedly surprised face, but then to a smirk.

Looks like today won't be THAT bad… I thought to myself, and hurried out the door, not minding to dodge the crystals of glass on the floor; my bandages protected me. I ran through the many halls of the mansion my abusive parents forced me to live in.

Running quickly ahead, a bad feeling came to my mind. My brother… The only nice one in this house of horror… Off like a bullet, down the hall, around corridors, and stopping completely in the middle of one of the manor's exceptionally wide halls. A scream rang in the corridor, but I couldn't see my brother. He was with my sister, who, with him, was quite nice. They were the trio, all against their evil older sister… Who fortunately had just been stabbed in the back by someone, and was, with good luck, now dead. But I couldn't think about nice thoughts now, I had to hurry.

Down the hallway I went, even faster than my previous speed. More screams rang out, some now coming from her younger sister. Sophie and Blaine were in trouble, that was for sure, but where were they!? I spun around on my heel, around and around, looking at all the doors. My mind clouded with images of my siblings, being murdered by who knows what.

Gotta check everyone one…! I thought to myself, and in a matter of milliseconds, I was in a spacious room. Out I went, finding no one there, and into a small, shabby room similar to my room. Like lightning, the doors opened and shut, followed by bursts of air, me. I finally found the room… The room where my brother lay dead on the floor, and my sister cowering in a corner, staring blankly at the corpse of Blaine Countorse. The black haired teen was looking at me, but I was sure he was dead… Or was he?! Rushing even more quickly, if humanly possible than the velocity of my feet before, I was over his body. He was alive! He looked up at me; eyes glazed, and reached out a hand. I pushed it back, shaking my head as tears burst in all directions, mixing with the crimson liquid splattered all over his chest.

He smiled at me, with his creamy orange eyes, kind but weak. I looked down at him with sad eyes, smiling a small smile back at him. Before I knew it, a scream came from the corner, and I was away from my brother, pinned to the wall by the small hands of my sister. I screamed like she did as I saw the bloody mace scraping down Blaine's chest, a white haired kid grinning menacingly at me. I could feel my eyes wild with fury, flashing red. Sophie slid across the floor, having been pushed away by the force of my eternal rage. Blaine gave a last wanting look at me, and his eyes glazed over for the last time. His eyes dilated, his arm dropped to the floor, and I was on top of the white haired murderer. A dagger, beneath white clenched fingers, was in his chest by now. He was still smiling, which was overly peculiar. Wind whipped around the boy, propelling me back at the wall. He was gone by the time I was charging at him with my dagger. I collapsed after a few moments of pained silence, staring down at the limp figure of my brother, who's eyes rested on mine.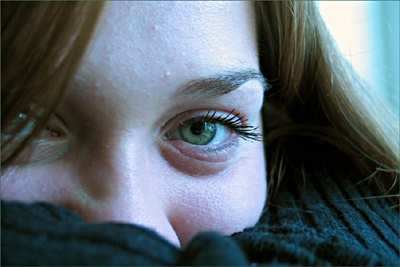 © Andrew M., Belleville, ON, Canada