The Faery Child- Part 1
February 15, 2010
The wind hurried through the streets, picking up leaves as it went. It wandered into the woods where the little river gushed by. For the people living in that secluded town, the woods were simply were, like the flies buzzing around the honey jar. It would have been all for the better then, that none knew of the secret hidden within the leafy boughs.






.......

"It's not fair!"

"Ellie, please, calm down. Look on the bright side, at least you don't have to share a room with your brother anymore-"

"I don't care! Why did you have to move us away from daddy? I want to go back home!"

"How many times do I have to tell you Ellie? Your father and I are divorced, and now this is our home."

Ella sniffed, ignored the comforting arm her mom extended, spun on her heels and left the kitchen, careful to slam the door. She maneuvered through the boxes stacked haphazardly in the corridor and open the door.

Instead of the busy, bustling city that usually greeted her, all she saw was an never ending field of green and gold. Her mother had wanted to move back to her childhood home, and she had even managed to find a place near grandma and grandpa. She had smiled cheerfully then, packing the boxes.

"It's so beautiful in the country," she said "I used to wake up to hear birds singing."

Bird singing... right! thought Ella. She had woken to the sounds which resembled an overly confident rooster boasting to a hen. I hate it here. She thought. It was not the same as in the city, where the tall skyscrapers had sheltered the streets below. Here, the clouds and the grass stretched for miles around, giving the feeling of complete isolation.

She got up, and lost in her own miserable thoughts, wandered around the neighborhood. It was only when the branch of a pine brushed against her shoulder did she look up to see, that she had walked into the heart of the forest.

"Are you lost?"

She looked up, and gave a startled yelp. Sitting on the branch over head, his head cocked to one side like a sparrow, was an elf!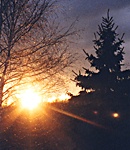 © Christy S., Germantown, NY