Kissed by an Angel
February 10, 2010
"Hello Ivy," Gregory said. In the mist he looked like a gray shadow, a dark angel perched on the bridge ten feet away from her. "Hunting for spikes?"

"I'm hunting for my brother."

"Not here," he said.

"What have you done with him?" Ivy demanded.

He grinned and took several steps toward her. Ivy took several steps back, still clutching the jacket.

"Chick, chick, chick," Gregory chanted softly. "Who want's to play chick, chick, chick?"

Ivy glanced toward the far bank, expecting to see a train loom up, as in Philip's nightmare, eager to swallow her.

She turned back to Gregory. "What have you done with him?" she asked again, keeping her voice low, struggling to keep down the hysterical fear that was rising within her.

Gregory laughed softly. "Chick, chick, chick," he said, then took a few steps backward.

Ivy moved with him, her anger overcoming her fear. "You killed Eric didn't you?" she said. "You were afraid of what he'd tell me. It wasn't an accidental overdose."

Gregory stepped back again. She matched him step for step.

"You killed your best friend," she said. "And the girl in Ridgefield ? after you attacked me at home, you killed her as a cover-up. And Caroline. That's how it all started. You murdered your own mother."

Step for step she moved with him, wondering what kind of game he was playing. Was a train coming? Was that what she just heard in the distance?

Gregory suddenly reversed his direction, moving toward her. Ivy backed up. They were two dancers on a tightrope.

"Tristan too," Ivy shouted at him. "You killed Tristan!"

"And all because of you," he said. His voice as soft and eerie as the twisting shapes of fog. "You were supposed to die, not Tristan. You were supposed to die, not the girl in Ridgefield ? "

A train whistle sounded, and Ivy spun around.

Gregory exploded with laughter. "Better say your prayers, Ivy. I've heard tales about Tristan becoming an angel, but no one has seen a shimmering Eric. I hope you've been a good girl."

The train whistle sounded again, higher in pitch, closer. Ivy wondered if she could make it to the other bank in time. She could hear the train itself, rumbling through the trees now, close, already too close to the river.

Gregory was walking steadily backward, and Ivy guessed his plan. He'd keep her on the bridge between him and the train. The girl thought to be crazy enough to throw herself in front of a train once would seem to have tried it again.

As Gregory moved backward Ivy stayed with him. "You've got things all wrong," she said. "It was all because of you, Gregory. You were terrified of being found out. You were terrified of being left out. Your true father could never give you the kind of money Andrew has. Gregory's mouth opened a little, and ha stared at her. She'd taken him by surprise. They weren't from the bank now, and he stepped back uncertainly. Ivy inched towards him. If he stumbled, she'd have a chance.

"You didn't think I knew the whole story, did you, Gregory? The funny thing is, the day you killed your mother I never saw you. I never saw past the reflections on the glass. If you'd left me alone, I would have never guessed it was you."

She saw his face darken. He clenched his fists.

"Go ahead," Ivy challenged him. "Come get me. Push me off the tracks, but it's only one more murder on your head."

She glanced down. Ten feet more ? ten feet more then she'd have a chance, even if she fell.

"Caroline gave Eric a key," Ivy continued, "and Eric left it to me. I found some papers in Andrew's clock."

Nine feet more.

"Some pretty interesting letters from your mother," she told him.

Eight feet.

"And a medical report as well."

Seven.

"I turned them into the police an hour ago," Ivy said.

Six feet. Gregory stopped. He stood absolutely still. So Ivy did. Then, without warning, he lunged for her.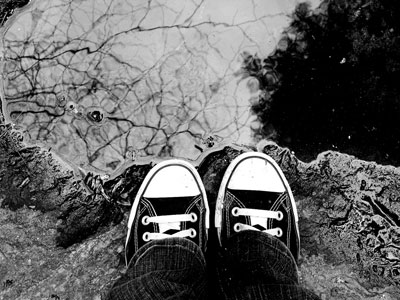 © Michelle B., Blairsville, GA