Saturday
January 27, 2010
It was a Saturday like any other. My breath slipped through my parted lips, rising up into the gray sky until I resembled the tall pipes atop the buildings before me, pouring gas into the atmosphere and protecting me from the warmth of pure sunlight.
I stepped out of their shadows, turning onto Eleventh Avenue. The street was vacant, vacant and clean, freshly cleaned, as it was every Saturday morning. I liked it that way. Although most had started using the underground interurban connection system since the weather had gone arctic, the government still provided the weekly aboveground sidewalk sweep.
I clutched my cane tighter as a gust of wind sailed through my coat, raising the hairs on the back of my neck as if warning me. My white knuckles seemed out of place beside all the gray. The chills passed quickly, as they always do, and I continued by brisk pace down Eleventh Avenue. Here I felt safe. Here, between rows of sealed windows and abandoned lots, dark clouds and spotless cement sidewalk blocks, here I belonged.
As I neared the end of the block, my footsteps aligning perfectly between the cracks of the sidewalk below, a deafening crash ripped through the silence of my solitude and, turning the corner, I was suddenly engulfed by people screaming, running, and calling out. As I pushed my way through the gathering crowd towards wailing sirens I saw smoke gaping from a building ahead that had seemingly dissolved on one side. Her building. My heart suddenly accelerated, speeding out of my chest and beating towards that pillar of black smoke with resounding thumps. I dropped my cane as I grabbed the shoulder of an officer who was also making his way towards the explosion.

"What happened?" I said, using his shoulder for support.

"There's been another protest bombing. You'd better get indoors, we haven't secured the building." The officer pulled out a megaphone and began shouting, "Vacate the premises! Area is not secure!" as he disappeared into the crowd.

This had been the third bombing this week. The culprit was believed to be an organization by the name of Freeair, who among other things, protested against government control of the environment and media. Her company had recently signed over controlling shares to the United States government. I had warned her that it wouldn't go over well.

As I scanned the crowd of evacuating civilians for her face, my foot was caught in a crack and I lost my balance, falling to the ground. My fear quickly turned to anger, anger that I was too weak to help, angry that everyone around me had the strength to run, and I could not even stand my ground. Pushing up off the ground, I felt a tap on my shoulder.

"Excuse me sir, but I believe you dropped this?" A young boy, about thirteen, handed me my cane and helped me up.

"Thank you." I said, but he had already disappeared into the sea of faces. His politeness had seemed strange among all the confusion and panic, and I wondered if that had actually occurred. I resumed my progress towards the destroyed building and suddenly stopped. Her figure, outlined sharply by the dark smoke, appeared suddenly at the foot of the building, lit by the few rays of sunlight that made it through these days. She was wearing a green jacket and her hair was done up in a ponytail, bobbing up and down on her back as she was escorted away from the debris.

"Alice!" I called out, as loud as I could. "Alice! Over here!" I ran towards her "Alice!" She looked over. Recognition dawned on her beautiful face. Suddenly she was engulfed in chunks of metal, shards of glass, and plumes of fire, as the lower half of the building was ripped apart by a second explosion. I was thrown on the ground by the aftershock, raising my hands over my face to shield myself from the flying debris. "Alice?" I said, but the world had become silent again. Alice would not respond. She too had been silenced.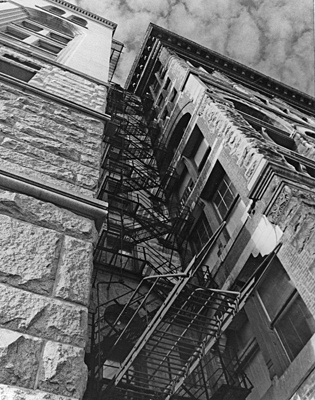 © Eric H., Lafayette, IN