Feed - City of the Dead (Chapter one)
January 22, 2010
The first time I encountered the pure terror of my 'gift' was when I was only six years old, August third, 1996.
Well, this was what I thought was my first encounter, but I couldn't remember any further back than this. Of course, very few children do remember anything so early on in their childhood, only the very strong memories stick, and this one was permanently etched into my brain. However many times I had tried to rid myself of that painful day: through alcohol; through drugs, the medical and the illegal kind; even through attempted suicide, the memory was always there. Never leaving, never erasing from my awful, vicious mind.
Because this was the day my mother had died.
And it was all my fault. Because I did it. I killed her.
Of course I didn't do it on purpose, what ordinary girl would willingly kill their own mother? Well, that was what a tried to convince myself. Though, the more I thought about it over the years, the more I believed that it wasn't an accident. Nevertheless, it was still my fault.
I remember the exact scene. I was sitting in my garden, the scent of autumn surrounding me. The sun was strong, still warm - but there were very ominous clouds sweeping the sky. I had my sketchpad in front of me, drawing a surprisingly accurate picture of a tree. Even from an early age I had shown a precise talent in drawing, at first the doctors had thought I was Autistic, since my skills were so adept and advanced so early on in life. But tests proved otherwise - mother always said that I was just 'special'. I am special. But special isn't always a good term. But I don't think it's the correct term either. I'm more...bizarre. Peculiar. Completely insane.
I looked up from the drawing, since a small noise had startled my concentration, and found a small squirrel sitting at the edge of the sketchpad. I smiled, my thin lips drawing back over my teeth, and reached into the box of sunflower seeds beside me. Squirrels often frequented our garden, so there was always a box of seeds left out for them. I held a few in my small palm, offering them gingerly to the squirrel. Its beady black eyes darted from the seeds; to my outstretched hand; to its surroundings; and then it carefully hopped forward. It darted its small mouth forward and grabbed a seed with its elongated teeth, then jumped backwards and began munching the seed happily, drawing its tiny paws in close to its body. I smiled as it hopped forward for seconds, but that smile soon disappeared from my face as its small nose brushed the skin of my hand. The whole of its miniature body froze as if glued to my hand, its bushy tail stark upright. I felt the animal shudder ever so slightly as I literally saw the colour of life drain out of its body, then drop dead.
I shrieked, of course, jumping to my feet and running indoors to find mother. I scampered in, panting, looking around frantically for her.
"Mummy! Mummy?!" I yelled in my shrill, child-like voice, and turning the corner to find her tidying my toys away, carefully placing my dolls in the toybox. She knew I was protective over them, as was a normal six-year-old girl. But the following moments were anything but normal.
"What is it, honey?" she whispered in her soft voice. I looked into her eyes and saw the slight glimmer of tears. The thought of the dead squirrel was instantly pushed away by the worry over my own mother. I may have been only six, but I still knew when something was wrong. I always cared for my mother. I vaguely remembered her being terribly upset through my early years, and I now knew that was probably depression. Perhaps it was the depression that my gift had brought upon her. If I remembered, I would know if I had tormented her in my early years with it, but I had no memories of it.
"Mummy, what is wrong? Why are you crying?" I asked her, carefully separating my words in the best sympathy a six-year-old can achieve.
"Its nothing, baby. Now, why were you just screaming?" She tried to reassure me, but my eyes darted down the piece of paper she was holding in her hands. She saw my eyes on it, and quickly tucked it into her pocket. "What is the matter?" she asked again, walking tentatively towards me.
My mother was a beautiful woman. Since I was only six, she was young at just twenty nine years old. She had hair as black as a starless sky, like mine, but it was cropped short with a long sweeping fringe. But unlike me, her eyes were a dark brown - whereas mine were a pale shade of violet that made people shudder when I glared at them. Father too had brown eyes, so why I had violet eyes was completely beyond anyone.
"Ebony, tell me what is wrong." she used repeated for the third time, knowing I had the tendency to get lost in my own thoughts. The thought of the lifeless animal in the garden came back to me in an instant.
"Oh mummy! I-I was feeding a squirrel, but it-it dropped dead as soon as it touched my hand!" I sobbed, a few hot tears sliding down my face, mother instantly rushed towards me to comfort me.
"Oh shhh, Ebony, darling, it'll be o-" she cut off as her arms wrapped around me. She froze, like the squirrel, but the next is what haunts my mind and will for eternity.
The screaming.
The shrill, high pitched shriek that emanated from my mothers mouth was horrific. It pierced my head - filling it full of pain....terror....torture. I didn't understand what was happening, only that my mother was in severe pain.
She clutched her hands to her short hair, pulling it as she staggered backwards and away from me - but the odd thing was, she didn't close her eyes. Instead, she had her gaze fixed upon mine, unable to tear herself away.
"MUMMY!" I screamed, stepping forward with my arms outstretched, brushing the skin of her arm. But as I did so, she only screamed louder - shaking her head back and forth in a grotesque movement.
I was causing her this pain.
She dropped to her knees, and I too felt like I should be dropping to my knees too - but was unable to. Despite the sheer pain my mother was in, I felt....energized. And completely glued to the spot. I couldn't move, at all.
Then she dropped her whole body to the floor, rolling over onto her back - her eyes still fixated upon mine. Her body began to thrash and convulse uncontrollably in disturbing movements, arching her back in pain.
"Ebony...I'm...so...sorry, I never...told you..." she said these last words in short gasps of breath, and then squeezed her eyes shut as she dropped to the ground, entirely still.
"Mummy! Mummy please wake up!" I screamed, running over to her - the strange connection between us broken - and dropped to my knees beside her. "Mummy...wake up...please..." I got out through the hysterical sobs, shaking her limp body, trying to wake her up.
She never did.
My father had returned from work later that day to find me draped over her body, my tears soaking her shirt. He dropped his bags to the floor as he saw the scene in front of him, and rushed over to where we were.
Then he knelt beside me, trying to pull me up and take me in his arms. But I refused to let go of her.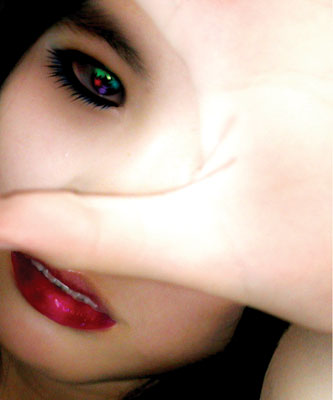 © Victoria W., Arcadia, CA