Consumers (Part 3)
January 20, 2010
Just the thought of it, it scared me. Last time I had these feelings
My whole life didn't just totally fall, but at part of myself was taken away with it. I wasn't going to let that happen again. I wasn't going to let the little bit of life that I had just regained be taken away from me again.
I started walking down the stares again. And the feeling got stronger, and this time it wasn't just the warm feeling, it was pain. I hadn't ever felt pain like that before, it was like 100 knives stabbing you.
I sat down on the step, my whole body going into some kind of shut down, and then, just like that something happen. The pain wasn't just released, but I saw someone.
Now my home was big, and I had many brothers and sisters, so the house was usually full, but this was a person I had never seem before in my life.
It was dark haired boy, with pale skin, and deep green eyes. It was the boy from my dream.
At first I did a double take, last time, it had felt so real, and I had thought it was too. But this time, it didn't feel real at all. This confirmed that it was.
But there was something about him, he looked so human, and he looked so much like us, but there was something different about him, and I just couldn't put my finger on it at the time. And then I realized what it was.
His eyes. They were green, but I saw something else that wasn't normal to humans, or to us in them, he didn't have pupils. All of his eye was green. And the only thing in the world that is like that is… "Tatena." I said without realizing it.
He laughed this laugh, this laugh that couldn't be forgotten by any one person. "Sterling, actually. But Tatena is close enough."
Usually, we didn't have any contact with them unless we were on the hunt. But he was in my houses. So this couldn't be good.
"Why are you in my house?" I asked him. I hadn't realized before how bad my voice sounded.
He just laughed. "Well," He started. "Our fathers are have a meeting." The words hit me like a loud of bricks. The leaders of the Consumers and the Tatena only meet for one thing and one thing only. The has been some kind of accident.
"What happened?" I asked. I picked myself from the stares and walked into my kitchen to get myself a glass of water. Eat human food wasn't something I had to do, it was something I want to do.
"Its about one of your brothers," He said. When he did, the glass in my had fell to the ground and shattered.
"I have 8 of them, which one?" I asked him stiffly. I couldn't believe what he was saying. I did happen to have 8 brothers, and 7 sisters. There names where- James, Stephen, Ian, Benjamin, Ricky, Ezra, Jack, Jude, Faith, Kate, Jane, Brittney, Caprice, Wanda, and Carly.
"Um… I think it was the Benjamin guy, yeah I'm pretty sure it was him." He said. And when he said that, I sunk to the floor once more. Benjamin was my twin brother, and he had just become a consumer, like I should have.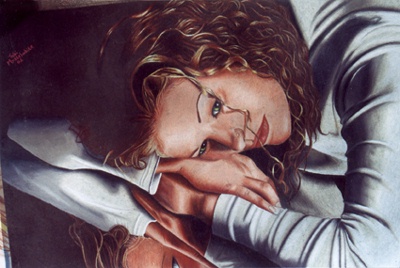 © Tabitha M., Kannapolis, NC