Cloud
December 26, 2009
It floated high in the sky for hours on end. On clear, sunny days it could not be seen by the naked
eye. On overcast days, the cloud could stretch to cover the whole sky if it could. The most magical
of things happened when rain came from that particular cumulus cloud. If one drank a full cup of
the clouds rain water they would be given the gift of eternal life. To some this may seem like a
blessing, but to others it can be viewed as a curse.

You see, when one drinks the water of the elegant cloud, they are to remain the same age forever. So
lets say a twenty year old woman drinks the rain water from the cloud. She will remain twenty years
old forever and will be granted eternal life. Its a trick you see. The cloud looks so perfect with its
powdery white color and flawless silhouette. Once one looks up at the sky, they become immediately
immersed in the rare splendor of this cloud. It carries a sort of alluring factor that makes you want to drink its rain water which, by the way, tastes like every delicious thing you have ever eaten or drank
in your whole life. To some people, the water fizzles in their mouths like their favorite candy does
and for others it is responsible for re-creating a feeling of euphoria that one gets from a certain food or drink they like. As you can probably tell, this particular cloud is a hard one to resist.

A few years ago, a story had been on the front page of the news paper and was the top feature of the
headline news. A young boy of about twelve years old had revealed that he had drank the water and
claimed to have been living ever since the year nineteen eighty six. Of course most people thought
this story was fabricated but intrigued scientists have solved a piece of this complex puzzle. They have found out that the cloud is the only one of its kind and has extreme powers beyond the reach of
science in the world.

Only those who have taken a drink from this clouds magical rain water and I will know the truth. So from now on, be careful when you look up into the sky. You might just come across a shimmering mass of loveliness that you just can't resist and end up like me, stuck being alive until the end of time.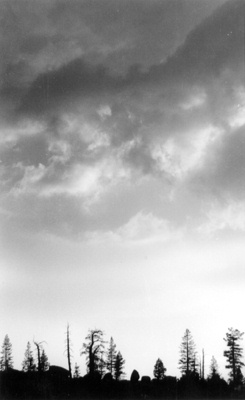 © Steve S., Marblehead, MA