The Innocent, the Weak, the Old -CHAPTER 1
December 26, 2009
It was Christmas Eve, or what it used to be called. William Francis ID 144 looked blankly at his screen. He took off his thought headset and read what he wrote.

Today Chief Buckley ID 98 was assassinated. Many celebrations were held in his honor. His son Gerald Buckley ID 99 will now be head of the Chief Bureau. Buckley ID 99 will be presented his Badge January 3rd at 11:30 A.M. in the Rose District Common. Those who would like to join the festive engagement please reserve your spot at the Rose District website. Sign up soon before it's too late. Tickets will be $ 250.00 and you can pay for those at your local District Clerks Office. Praise Elja.

Francis was satisfied with what he wrote and looked at the holographic clock on his screen. It was 7:55 P.M., Mass starts at 8:30. Running out of time Francis sent the head-o-gram and jumped up out of his seat. There were only a few people left in the office. The office was a florescent white color, rows of cubicles filled up the massive room. No pictures or various colors were present in the office.

Francis picked up his yellow and black coat and put it on himself. Slowly but suddenly he headed toward the elevator door from across the room.

"You heading out early Will?" Davidson ID 204 asked.

"Ya. I have hot dinner waiting for me so I got to get there quick" said Francis.

Davidson looked at Francis a little pequilerously. Francis began to break out a sweat, he could feel the sweat running down from his armpits towards his sides and kept walking.

"Well in that case, I'll see you later Will. Praise Elja."

"Praise Elja," said Francis quietly put loud enough for Davidson to hear.

The Elevator doors opened immediately as Francis walked toward it. The big red letters above the elevator entrance read "Floor 98". Francis jumped in to the elevator and it started to go down at a rapid amount of speed, it knew which floor Francis wanted. The elevator landed on the 1st floor. Francis walked out and headed towards the front doors which was quite a distance from the elevator. He passed by the reception where three men were standing up, they all looked the same.

They all were wearing their all black garments, and clear headsets on their right ear. They all were about the 6 foot tall, all caucasion and had silky black hair which was slicked back to the left with grease. Their faces were plain, with button noses, narrow cheek bones, tiny lips, dark bushy eyebrows and a pair of silvery-orange eyes. The eye colors were changed by a simple eye surgery. On the left side of their belt held a shock baton and on the right a flash gun.

The counter of the reception was a silvery color that was painted over the blocks of old rusty steel, it was precisely five feet in height. The counter was round, in the middle of the counter was a heavy machine gun, it used ammo that looked like a six inch clear needle with green liquid inside of it. The gun was aimed at the buildings only entrance. Behind the reception was a factious twenty foot marble sculpture in which they called Elja. It's appearance looked some what like the body of a man but really wasn't.

It wore a crown with hands that point upward. There was a head but no face, it's body consisted of twelve massive hands that each held out there palms out in every which way. And it wore a toga that covered the rest of the monstrous figure.

William began to get closer to the door, he could sense that the three men were staring him down, following his every move with those orange eyes. Like lions examining it's prey.

"Heading out early Will?" they all said together. Francis stopped walking, he was only a couple feet from the door. He turned his body to the left where the reception lay. Staring at the men behind the counter he hesitantly spoke.

"Yes. Me and my wife and children are having a family dinner tonight."
Did I speak too loud? No, remain calm. Don't act nervous, they'll know. Your almost there.

"Oh. That sounds quite pleasant. What does the meal consist of?" they said together.

"I believe it's a T-dinner. Maybe some fresh yams my daughter picked up from the morning market."

"Excellent. We just got your head-o-gram, we always think your reports are the best in the city." They all smiled and nodded their head agreeing with each other.

"Well thanks gentlemen. I must get going now before it gets cold."

"Ok Will, we shall see you soon. Praise Elja."

"Praise Elja!" Francis exclaimed.
Damn. You idiot, that was too loud. Just move carefully and walked out those doors.

The doors opened and Francis moved quickly onto the filthy streets and headed towards the church.
God forgive me. I hope Venus got my message. Walk faster but make sure the cameras don't point you out. Maintain, your almost out of Main Zone.

Francis moved quickly through the crowded sidewalk. Beggars, old and young, business men, prostitutes hopped up on government drugs, the homeless all walked on the sidewalks like confounded insolent children. They sloth around and murmur to themselves about their day, there miserable lives, if you would call it that, spread through out the city. A McDonalds here, a corporation, a few little various shops that had a profession needed to maintain the average. All the things you will see on every block in the city. Big flashing billboards that appeared on the tall buildings that said disturbing things such as, "MAKE THE ULTIMATE SACRIFICE? DILE IN AT 1-800-sacrifice-yourself".

There are no liberties or freedoms in this time, you must face a self-rational understanding that life has formed into a pitiful disgrace. Your life means nothing because you cannot make it something. Over time everyone will learn that dieing is the soul purpose of living. Demons have found new occupations. The battles that bestow the minds of the negligent and blind. To see nothing but air in the world and with satisfaction run life without life. Without the truth or fear that sustains us all, no facts, no ever ending wars that molds the brain into nothing, nothing but air. Postures have been tweaked, exercise is for the weak, fiction is what drives us to keep living. To watch that crude TV shows that show nothing, nothing but air.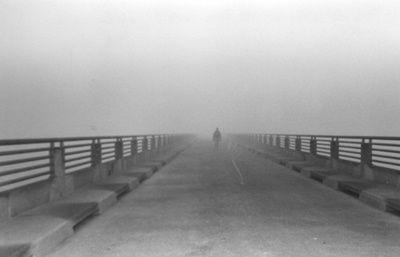 © Becky G., Westville, OH