Cinibea II
January 10, 2010
"You have been chosen to be reincarnated."

Oh.

For a while that was all I could think. Reincarnation. I hadn't had to experience it in a while. Going back to the mortal world? I was blank. The blackness became matte and still around me. I would be sent away. Lose my memories of the Everworld, of Lady, and of my dawn… What of my dawn? Inky rage spilled within me. No! I could not! Never shall I be human again! I'd gained so much in the Everworld. My art, my glorious sunrise. How could I finally find what true happiness is only to be forced to forget for another century? A century of torture, at that! The mortal world— it is torture!

"Never!" I barked at the Itineris. I might have seen his stagnant eyes flinch.

"It has been decided," he stated. "You have one rotation of mortal Earth to prepare."

My eyes were wild, sparking color and heat in the darkness. "But, the dawn—! What will happen to the dawn?"

"We have appointed someone else to occupy that responsibility."

My mouth hung open. The air tasted stale, solemn, and so, so full of magic. I crumpled to my knees. Even in this horrible room, the beauty of the Everworld hung thick around me. "What am I to do…?" I felt tears burn at my eyes.

The Itineris paused. "It has been decided. You have one rotation of mortal Earth to prepare," he repeated. Somehow I couldn't care less. Numbness ruled me.

The next thing I knew I had been returned to my room. My doors shut behind me. I looked about. Lady was gone. The walls glowed warmly. The light smiled at me, welcomed me back. The threat of tears scorched me once more.

I walked to my easel. It was washed with the bright yellow of noon. Blue shades and white clouds flitted among the brightness of the canvas. And in the corner, a small, black glimpse of a bird shape. The painting had nothing to do with magic or goddesshood. I had just wanted to paint something. I had missed the clumsiness of the mortal world's paint. Its mass. Its… substance. In the same way Earth could not rise to the Everworld's magnificence, the Everworld could never be solid reality.

But oh, how I loved it. I much preferred the wispy surrealism of the Everworld to the gritty Earth. I touched the coarseness of the canvas. The paint had been dry for hours. Could I really go back?
I don't know how much time passed as I stood there, staring, before finally deciding to go for a walk. I turned, opened my doors, and let my feet take me outside.

I took a milky brown path to the north, a favorite of mine. I'd walked it often when I was still new to the Everworld. It snaked around the heart of the place I called home, over peaked hills and under wonderful sky.
My feet went one in front of the other. I was moving forward, somehow. The concept seemed difficult to grasp at the time. It felt as if I had no control at all. I was but a passenger to my steps. I sensed rather than saw my favorite willow tree at my left. When the wind blew just so, the branches sang like wind chimes. I reached the top of the first hill, the highest on the path. My feet paused beneath me. The hill seemed like a section of cloth pinched beneath some massive fingers. The slope was soft yet steep, and allowed a perfect view in all directions of the mirage of the Everworld, a place without mass or time or space… only beauty.
I moved down the hill. Blue and white were above me, green and brown and flowers of every color under me. Suddenly a sharp sound awoke me like an electric shock. The caw of a bird. I looked up. A bird of pitch-black flapped through the blueness. I squinted as it flew in front of the sun. Its beak and feathers shone with breathtaking iridescence. It felt… familiar to me.
For no reason at all, or for perhaps every reason ever, I followed it, off the path and to the east. Down the hill, my feet skipped over the grass like flat rocks on a lake. Where were we going? Why was I following? It cawed again and I scrambled to keep up. We were a kite and its player, unsure of which one of us was which. It took me past the willow tree. It whisked me past my home. It led me past Lady's small house with the green metal roof. It showed me past a cool spring that bubbled like laughter. It brought me past gods and goddesses and new souls and old souls and breeze and light and then…
I found myself at the edge of a cliff. My head was craned upward, searching for my guide. There it was: a pale shimmering shadow that seemed three forevers away. My bare toes curled at the precipice. The wind whistled through the china dress. I leaned forward until I would surely fall. My fingertips reached for it…
A pebble crumbled beneath me and I jumped back. Looking down, I watched the pebble fall and fall until it was lost in a sharp and cool mist. I blinked away tears. I couldn't stand it anymore. I cried. I sobbed and choked until my whole body throbbed. I ached from the loss that consumed me. Even if I were to return, I would never be the master of the dawn anymore. My dawn… my precious dawn… I had been replaced.
The feel of the rough canvas sprung to mind. Reality… it had its merits.
I could still see my bird soaring away from me. Both beautiful and oh so real. I knew then that there must be a reason. There must. And I had to find it.
I watched the bird disappear. Its black feathers glittered. And its beak shone with rainbows in the light. Like a pearl.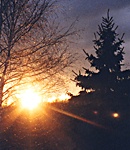 © Christy S., Germantown, NY