Fireflies
December 19, 2009
The fireflies are the fairies," says the little girl.
I am not listening very well, for I was just like this little girl when I was her age. When I thought fireflies were fairies
"And the toads are the trolls," she said.
Yes, I thought that too. The toads were the trolls. But I am older now and my dreams and fantasies were childish and foolish. I no longer believe that. Fireflies are fireflies and toads are toads. There is nothing magical about it. Nothing magical at all.
"Did you hear me," asked the girl.
"Yes, I heard you Lindsey. You said that toads are trolls," I said.
"Yes they are. The trolls are bad and the fairies are good."
"The trolls are bad and the fairies are good," I repeated.
"Very good."
We were sitting outside on the lawn. She sat on my lap and taught me things that I had long since found absurd. She was teaching me things that I myself had taught myself so I could stay out of the harsh reality I call life. Now I read and write. The sun was starting to set and the fireflies would be coming out soon.
"What are frogs Lindsey," I asked.
"The frogs are princes. They aren't good but they aren't bad. Daddy calls them impartial," she said. "I don't know what that means."
"It means that they don't take sides. You know when your dad says 'Go Lakers' but your mom says 'Go Bulls' that's taking sides. Impartial is when you don't side with one or the other."
"Ohhh, that makes sense."
And yes, before you ask I did think the frogs were princes that were not good but not bad. I thought that although the frogs ate the fireflies they also hated the toads therefore making them okay.
"The fairies are going to come out soon," Lindsey said.
"Yes," I replied.
"Come on," she said getting up.
"Where are we going," I asked.
She was running towards the woods dragging me along with her. We stopped at a clearing. Above us was the vast, endless sky which at the moment was turning a deep purple and spotted with stars. The field seemed as vast as the sky. It went on for farther than the eye could see. The tall grass swayed gently in the easy breeze. Just in the distance stood an old oak tree. I called this place no-man's land. I named it that because no one truly owns the land but I liked to think I did. It was my place. The place I came when I needed to think. The place I came when I wanted to go back to when I believed fireflies were fairies, toads were trolls, and frogs were princes. When I believed anything was possible.
Lindsey and I walked to the where we say with our backs against it. The truck, which was gnarled bore the signs of age but also youth. I remember being little and I would swear it would whisper to me and I'd always talk back.
"I'm still going strong," I heard.
It was just my imagination. It had to be. The tree couldn't talk.
"I know and you will be for a long, long time," Lindsey said patting the tree.
"Who are you talking to," I asked.
"Grandfather Oak," she replied.
"Like Grandmother Willow from Pocahontas," I asked.
"Yes."
I wasn't about to butcher her dreams, hopes, and fantasies by telling her that the old oak couldn't speak to her.
"Yeah," I said. "What did Grandfather Oak say?"
"He said that he's still going strong."
Okay, weird. I know I didn't say that aloud and that she didn't either. But it wasn't possible for an old oak to talk. It's just not rational, not logical. It's not possible.
"You cannot hide from what is right there in front of you," said Grandfather Oak.
"Grandfather Oak is talking to you," Lindsey said.
I wasn't sure if I was going to sound like an idiot but I went ahead and talked back.
"I do not hide," I said. "I escape into a land of books. What is right in front of me…I don't know. No one knows what's around the corner nor right in front."
The wind picked up a bit. The grass swayed more. The sky suddenly became cloudless and all the stars shined through. The fireflies swirled around us. Normally, it would have freaked me out but right now I was oddly calm. I heard some birds chirp and woodland animals scurry around all coming to form a circle around us. The branches of the old oak swept down and forced me into sitting on a bough.
As the fireflies swirled around us, the frogs croaked, the birds sang, and the night settle around is I knew that my childhood fantasies were real. Fireflies were fairies. Toads are trolls. Frogs are princes. Everything we see as adults is not as it seems. We see things as they are when we're children and the mind blurs it all when we get old. We forget everything. Fireflies are fairies.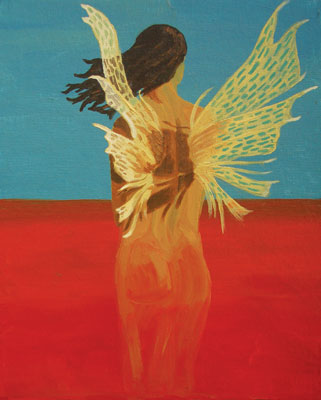 © Allison F., Langhorne, PA