Blue With Red Tint
December 18, 2009
"So I'll meet you at Blue Moon at seven?" my best friend Hannah's voice hummed through my cell phone.


"Sure," I answered her as I pulled up to my house, "Mom's going to be up all night working on a sculpture and Jainny's going to the movies with Macy so we'll probably be able to stay out later than we usually do."

"Cool. I've gotta go. Book report due Monday."

"Okay, bye."

"Bye Annalynn."

The line went dead. I dropped my cell phone into my purse and stepped out of my car into the fresh Spring air. My mom was sitting on the porch watching a squirrel run around a tree and drawing on her sketchpad. She smiled at me as I stepped up the porch steps and sat in the patio chair next to her.

"Welcome back," she sang happily. Mom was a thin, blue eyed blonde with an amazing talent for art. She wore a white, button up shirt with tan jeans. I guessed that she had just finished painting because her jeans were covered with paint stains.

"Where's Jainny? Did she already leave?" I asked her.

"No, she's still getting ready I think."

"Good. I need to ask her something." I started to open the door and walk into the house when I remembered something. "Hey Mom, can I go to Blue Moon with Hannah later?"

"How long are you going to be out?" she asked.

"I figure midnight, since it's the weekend."

She sighed. "Fine, but don't be late."

"I won't," I said over my shoulder as I walked into the house.

Jainny, my older sister, was sitting on the couch talking on the phone. Jainny was the spitting image of Mom. Same hair color, same eye color, and same thin bod. I guessed she was talking to her best friend Macy because she was laughing loudly and talking badly about some girl named Holly. I felt sorry for that girl. Jainny was pretty mean by herself, as was Macy, but together you might as well call them the terrible two.

Actually, that is what people called them.

She looked up at me with a questioning look on her face.

"Can I borrow one of your dresses?" I whispered to her quietly.

"Any one except the red one," she sighed, "Now go away."

"Thanks."

I walked into our room. Jainny and I had to share a room so my mom could have an office. I opened the door to Jainny's closet and looked through her dresses. I glanced past the red one and saw a short, black, spagetti strap dress and took it off the hanger. I slipped it on and looked in the full size mirror hanging on the wall.

I was the exact opposite of Mom and Jainny. I had long, thick, dark brown hair that went a little past my shoulders. My eyes a medium green, with dark green specks in them. I was not really short, but not really tall either. I wish I looked like Jainny but she always said that she wanted my 'hourglass' body shape. It was probably the only thing that I had that she couldn't top.

The dress sat against my body perfectly. It showed my curves but wasn't so tight that it looked like I was trying to show off.

I curled my hair and put on my makeup. As soon as I was done I sat on my bed and put on my heels.

Jainny walked in and picked up her purse from her bed.

"I'm leaving. Macy is here." she said as I looked up at her curiously.

"I thought you were already gone."

"No. We decided to go to the later showing."

"What are you guys going to see, anyways?"

She shrugged. "Beats me. I'll just watch whatever is on."

"Okay," I said.

"Bye." She walked out the door.

I looked at the alarm clock on my nightstand. It said it was already 6:45. I was supposed to meet Hannah at Blue Moon at 7:00 and it took about 15 minutes to get there.

I picked up my purse and walked outside to my dark purple bug. I loved my car. It was small but cute. I opened the door and climbed in.

I started the car and pulled out of the driveway. I got my cellphone from my bag and dialed Hannah. She picked up.

"Hello?" a high-pitched voice anwered.

"Hey Hannah. Sorry, I'm running a little late."

"Yeah, no kidding. I've been waiting for you for ten minutes."

"Oh, I'm sooo sorry that I've kept you waiting for so long," I said sarcastically.

"Oh, shutup."

"I'll be there in a little bit. Just wait for me outsi-" something flashed through the trees outside my car window.

"Annalynn?" Hannah asked, seeing if I was still there.

"I think I just saw something." I looked out my window again, but this time I couldn't see anything.

"What do you mean you saw something?"

"Nothing. Forget it. I'll be there in abou-" something flashed infront of my car and I swerved to miss it. I drove off the road and my car hit something extremely hard. My airbag came out. My cellphone had fell out of my hand and I could Hannah's voice yelling from it somewhere in the car, "Annalynn! Annalynn? What happened?!"

To be continued...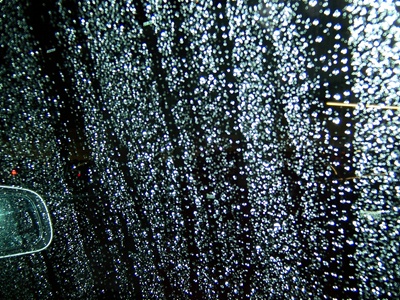 © Jessica L., San Jose, CA