Violet Eyes
December 7, 2009
As he sat there on his lonely stool, gazing right outside of the window, in a perfectly anxious posture, with his long bent legs and remarkably impeccable, boyish, dark hair; he was a muse: not so much in the definite sense of meditation, but so much as art and anything else that was not all together bland. Virgin in every way, he had the eye.

There she was, right on time, beautiful from any perspective with her long scarlet hair. She really was a sight for soar eyes, so to no surprise, the young man on the stool came out of his daze and fell into a drunken stupor. For she was the one he'd been waiting on.

Just at that moment, she glimpsed up to that same window, as she did everyday, capturing his rich hazel eyes in her majestic eyes of violet. "You are mine, again," she murmured.

Suddenly, the young man found himself in another dimension. This was not the same room he had just been in, nor was it the stool he sat on, but it was a place that he thought he could only visit in his dreams with the woman that he loved. This place was Dagger.

There was always something magical about this place that always made this fellow weak. Was it the beautiful meadows or hills? Or was it simply just the atmosphere itself? The land was after all the perfect warm temperature. Whatever the matter, the young man could not stay long, for he did not realize that he had experienced the symptoms of this land before.

Not knowing that his time was limited by days, hours, and even minutes, he searched for the young woman's, free, violet eyes that he had seen just seconds ago. He went left; right; forward, but when he turned around, there she stood with her hand outstretched as if she were expecting his to be in it. Then she unsealed her lips and uttered the words, "Join me, once more, Seth. We'll have an encore." He took her hand and followed in a trance.

On the way to their destination, they traded innocent yet sensual glances toward one another. They knew that they were bound to sin.

Taking long strides forward as she was in a hurry, they stopped abruptly and settled under a tree. A cherry tree. A cherry tree with a blanket and a basket as if someone had previously been here. No one inhabited this land, its conditions were too insecure, but there was something about the cherry tree that made every insecurity of the land ineffective.

Suddenly, the young woman thrusts her hands forward to grab the young man's hair. Then they found themselves rolling their imprints into the blanket with passion. As they tossed and turned, the bright blue sky started to change into a royal lavender, then a satisfying violet.

Being that they were only human, the tussling eventually faded. There was still time for discussion.

"So…uh, Seth?" the young woman started.

"So…uh?…," Seth questioned himself with lack of knowledge for her name. He was embarrassed. She knew his name, but he never knew hers.

"Jezebel," she answered.

Then a perplexed look masked his face. "Wait, how do you know my name?" Seth demanded.

"Why wouldn't I?" Jezebel said in a teasing way.

"Well, we've never spoken." Seth replied.

The conversation abruptly ended as Jezebel cut off Seth's last thoughts with a simple kiss. Seth was in love. Jezebel was like no other woman he had been with before. She was amazing, and like no other woman could, she made him believe the feeling was mutual.

However, Seth had no idea just how much in the dark he was. The lies that she would reveal. What was really going on? Where was he? When would he snap back and realize how unrealistic all of this was. It was chaotic.

Jezebel slowed the movement of their lips to a halt, and gasped for air. Once she caught it, she stepped from under the cherry tree and casually said, "Okay. I'm done, now."

Seth, with that previous perplexed look on his face, exclaimed, "What?"

"Well, Seth, I really only need you once a day."

"W-wh-wha-what do you mean, 'need?' What are you saying?" Seth demanded. "I thought we were in love! "

Jezebel began to get frustrated. "Listen, kid! I don't have time for this."

Seth had an epiphany. "Wait, where are we? How did I get here? Who are you?"

"We already went over that last part, but if you must know the truth, you're in a land beyond my gaze. In so many words, you were compelled to be here" she said without hesitation.

"I can't believe this!," he cried out.

Jezebel's tension grew. "I don't love you. Get real! You're much too insignificant to even be considered, similar to a rodent that I pet from time to time. Understand?"

"No. My heart will always belong to you," Seth moaned.

Agilely, Jezebel began to hum. This was no common hum, but one so peaceful--so serene that one, no matter the age, could dream of this. Her significant hum put Seth in another trance, and right before he dozed off, she looked away towards no man's land, away from the cherry tree, and more importantly, away from Seth.

Within seconds, Seth was aware again, sitting in that same stool that supported him so well, in the same position he was in before. As he sat there, he was trying to figure out what he was doing before he went to sleep. He knew that he must have been waiting on something since his posture was so anxious. Then his memory flickered back to a set of violet eyes, and that was all he could mentally see. There, he waited impatiently, for all he knew was that pair of purples, and he would not budge until his unknown mission was complete. There, he waited impatiently, naively bound.

Just outside the window, She walked by. There she was, right on time. Take heed someone's eyes, for you never know what world the set may bring.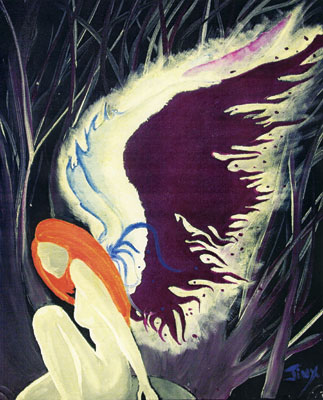 © Megan B., Youngstown, OH