The Angel
October 29, 2009
The girl was obviously an angel. You could tell just looking at her, she glowed as if she was a candle and she smiled with wisdom of thousand years. She was young about 18 but looked mature enough to be 21 or young enough to be 16. Her face was the envy of all supermodels.

She wore no makeup but her face looked just as beautiful as those who did. She wore a long white dress with no sleeves, straight out of vogue style. She had a single long chain with a sliver heart pendant with golden wings that rested on her chest.

She was more beautiful than any supermodels but she didn't make you feel ugly, she seemed to make you feel pretty just being around her. The angel was my best friend. She wasn't judgemental, she was kind, considerate. She listens and gave advice, as we would walk around beautiful surroundings.

Today the setting was the top of Niagara Falls as she rests her arms on the bar, I stood away from the bar, afraid to look at the beautiful but deadly falls. It was nightfall but you couldn't see the lights of the cities. She wore her hair in a French plait with ribbons of sunlight and flowers.

She didn't move her mouth, you just heard her voice. Closer she whispered to me. I obeyed as she slipped her fingers through mine and led me to the bar. She put on hand on the rail and I shakily put the other. She smiled at me, backing slowly.

Where are you going? I asked. She just smiled, her glow became brighter, she took off her heart pendant and slipped into my waiting hands. You no longer need a guardian angel to guide you, you can guide yourself.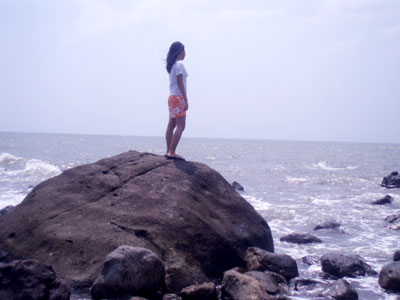 © Grace L., Bacolod City, Philippines