Crime in Milwaukee has Spiraled in an up ward direction
November 25, 2009
Crime in Milwaukee has spiraled in an upward direction. There are rampant umpa lumpas running the streets of Milwaukee causing chaos. The people of Milwaukee are admonished to place metal bars over their windows for protection. There is no say to when this crime spree will ever end.

Umpa lumpas are small colorful people. They are flagrant and can be seen at locations where crime rates are low. Umpa lumpas escaped Willy Wonka's chocolate factory and fled to Milwaukee. They fled so they could have freedom and not have to make candy for low wages. Willy Wonka has offered a reward for the return of his umpa lumpas.

Three culprits were arrested last Tuesday for a crime involving grand theft auto and littering. The three umpa lumpas were interrogated and forced work in Willy Wonka's candy factory with no pay as punishment. Willy Wonka and the city of Milwaukee concur on promoting community service as the most compelling way to get the umpa lumpa's attention and stop crime.

Officers of Milwaukee are cracking down on umpa lumpas around Milwaukee. If an umpa lumpa is just minding their own business any officer has the right to question and make an arrest if need be. Milwaukee's mayor Mike Simpson has decided to set up a hunting season on umpa lumpas if community service fails. He says that starting a hunting season on them will help reduce the population and scare the rest back to Willy Wonka's chocolate factory.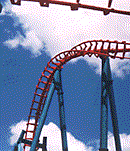 © Kristin L., Utica, NY