Four moons and the Sun
October 16, 2009
The cold night air chilled my lungs as I breathed in deeply. It was refreshing after days of warm rain, which caused the air to be thick and unpleasant. I turned my attention upward, to the sky black like ink. I reached my hand up, it felt so close. The still wispy blue clouds cutting through the dark sky looked so smooth, I wanted to feel them in my hands so badly. The moon was the most beautiful, a large, dark crimson circle resting perfectly. I turned to my mom,

"It's beautiful," I told her quietly, not wanting to disturb the serenity. She only nodded her head, continuing to study the dark sky that seemed to surround us. I looked again at the sky and was amazed by what I saw. There was another moon, just as red and welcoming as the other moon next to it, and a little to the side of that moon was another and one more above it.

"It's amazing! The sky is so clear tonight you can see all the moons!" I whispered to her. She again merely nodded. I took another deep breath, cherishing the crispness in my chest. I opened my eyes again to see a faded grey circle farther in the distance. It was the sun, peeking out amongst the darkness.

"It's the sun...." I mumbled in disbelief, too quiet for my mom to here. I took a small step forward, reaching my hands out, I needed to touch it; it felt so close! I took another step forward. My foot caught in the ground. My body gently floated up and fell forward towards the ground. I desperately tried to look up as I slowly fell, not wanting to lose sight of the moons.

Everything went black.

I cautiously opened my eyes, not yet quite sure of my whereabouts. I lifted myself up and scanned my eyes around my room until they reached my window. I jumped out of my bed and peered outside. The grass was white with frost and the trees bare. The sky was a sullen grey, the sun not quite awake. I ran my fingers through my hair, pulling it away from eyes. I looked at the blinking red numbers on my clock. They flashed 12:44am. The power must have gone out, I thought. I allowed myself a heavy sigh before lying back down in my bed. My eyes closed and I fell back to sleep.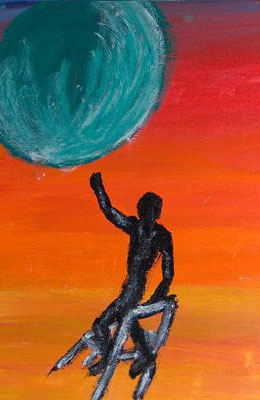 © Maegan F., Harrisburg, NC