The Half Angel
October 10, 2009
One day I met an angel. Tall, and lean. So tall he could touch the sky with his fingertips, even though he couldn't quite reach the clouds. He was young still, and his wings weren't fully grown, so he couldn't fly. They were small and delicate, easily broken, and the faintest gust of wind could send the pure white feathers flying. I asked the angel why he had been sent to Earth, and he replied sadly, saying he was tainted. He had done many bad things, and was sent to this Earth to sacrifice for all he had done. His mission was to help those around him, even if they hurt him, so that someday he could go back to heaven. I looked into his sad eyes, and couldn't find any imperfection. They were smooth and clear, and as tears began to escape from them, I gently wiped them away. The angel first flinched at my touch, but when my gaze met his, he let me continue my work until his tears had subsided. He murmured his gratitude, and I nodded, as we both looked at the sky.
As the light grew dim, I invited him home and he politely declined with a shake of his head. I told him I'd see him in the morning. And I did. And the morning after that as well. We talked about everything. All the sins we've committed, and all the crimes we have not. The regrets we can't face, and the pain we still feel. He told me of the others who could see him, for not everyone could, and in turn I told him of the friends I had. On one day, as the leaves turned red, I found him in my garden picking white roses. He liked them, he said, and he pricked his finger on a thorn. It hooked him, but no blood spilled on the petals, for, although white, it had grown dark and withered. He ran off, clutching the rose, and I went home.
The next day, I went to the garden and found he was not there. I searched all of our usual places, but there was no sign of him. I finally reached the place we had first met, and still he was not there. I fell and cried. Sobs heaved through me, and I went home, sore from weeping. I surrounded myself with people I thought were friends, and ended up stained with blood. I searched for the angel every day, and I would catch glimpses of him, right before the apparition vanished from sight. Two and a half months passed with the pretenders, and I knew they had blinded me with their falsehoods of love and happiness. I cried every night. I was completely alone, and I became friends with pain. Its intense seduction allured me, and its burning voice distracted me, for only mere moments, of the reality I hated facing.
Thirteen long, cruel, days passed, and on the night of the Holy One's birth, I saw a pink rose on my windowsill. I watched it, and it began spotting a pure red that I found bewildering. I knew the angel had left it there. I let pure tears cleanse my blinded eyes, and I raced out into the darkness, consumed with thoughts of our meeting place. Running, I heard him call my name. I turned to him, his palms were stained with blood as my eyes had been, and still I ran and embraced him. His skin was cold, and his eyes red from crying as he asked forgiveness for being drawn into the white rose's fabrications. I asked the same deed be done unto me, for being blinded by lies and letting the darkness take control of me. We both nodded, and the stains lifted from our bodies. I asked him how long he had waited for me, and although he wouldn't give a straight answer, he said my struggle had pained him.
I felt horrid for needing a rose to show me the light. But we remained together that night, and for every night after; he kept me safe and protected me from pain's temptations. In turn, I helped his wings grow, and let him stand on m shoulders and grab a few clouds. I smiled, because when I did this, his weight somehow made me lighter. And for that I was ever grateful. The angel helped me voice my thoughts and teach others. He taught me how to plant a perfect garden, and how to keep the pain at bay. And one day I realized the rose he had given me all those days ago, had turned a pure and beautiful scarlet. It would live forever, I knew that, as long as I cared for it, watered it, and he put it in the sun's rays for me. Never a petal fell from it, although sometimes when the rain poured heavily its edges would wither. But whenever the sun came back, it would become perfect once again. Just like the angel. Although he sometimes made mistakes, I knew that was part of perfection. Growth, knowledge, and learning were all perfection's branches. And so, he was perfect.
As the days passed, his wings grew larger, and I knew someday he would be able to fly. I was too worried to ask, but he knew what my thoughts read, and answered me without hesitation. He said wherever he went, I would be with him, even in heaven, as he tucked the scarlet rose gently in my hair. I couldn't help but smile back at him, for I knew he told the truth. He always did, no matter the circumstance. When the angel and I had met we were both lost and alone. We found each other. We gave one another reason and motivation, and knew our covenant would never be broken. He held my hand, even when pain overtook me twice more, and helped me overcome my weakness. And I would do the same for him if a white rose ever tempted him again. Even though, in depths, I knew it wouldn't.
As I felt his heart pulsing through our intertwined fingers, I closed my eyes, silently protecting what he had given me, that I hold so dear. No one knows of our true, engaging, secret, but for now that's best. Someday we'll tell you. You might even be invited to the party we throw. But, for now, we keep it under lock and key, and smile to ourselves whenever we look at something specifically; to the thing that binds us. So if you ever see me truly smiling, note where I'm looking, and you just might find my secret. But keep it to yourself, or you'll ruin all the fun.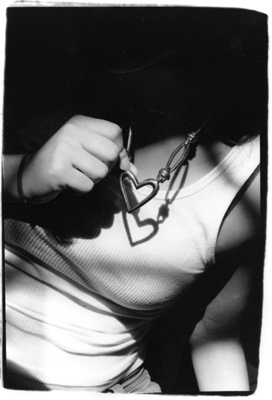 © Julia R., Bethesda, MD