Phrophecy
August 27, 2009
In a world very different from ours, on a cold bitter December night, a very strange occurrence took place. In a big mansion's least decorated room, a husband and wife were standing over a crib, looking at the lovely young baby girl that was their child, sleeping. Suddenly the man's face contorted into one of grief. The wife, busy with gazing at her child did not notice.

A blinding white flash filled the room. Another second passed and the ghost-like form of a young lady with Midnight blue eyes began to materialize, as though light rays themselves had formed her. The now-anxious parents walked awkwardly to her.
"It's too early" The raspy voice of the man's voice said. "She has just been born. Surely her fate will be decided by the paths she choose when she is older!" He almost pleaded.
"No" The spirit replied. "This girl had her fate written down in the stars eons before she was born. Her fate is both great and terrible, one to be recorded down in history. She must be kept from knowing of this, until she is old enough, ready to decide The Choice."
The father bowed his head, nodding slightly. He turned to face his wife, who was sobbing silently, her shoulders shaking as another series of sobs shook her.
The music-like cadence of the spirit's voice filled the room as if strangely magnified.

"She is the last of the Basilie family with undiluted blood, pure enough to wield all four elements to the maximum, and the fifth, hidden element. She will long for what can never be hers, loving one who can never be hers, only at the last moment realize her feelings, being to late to save him. She will bring Equilibrium to our world, at last after 5000 years of waiting. She will never "be" alone, but shall always feel alone, with only her power for company. For our world, she will be the deciding factor between good vs. evil, light vs. dark, and lastly between existence and destruction."

With this being said, the lady disappeared. The couple was left staring in horror at the space where moments ago the spirit had taken. The silence was abruptly broken by the sound of sobbing. The sob was a heart wrenching sound, reflecting the bitterness, the grief, and horror the parents felt from hearing this almost-deathlike sentence as their child's future. The husband reached toward his wife, as if struggling, and put one arm around her, comforting her in their shared grief. He slowly turned his face away from hers, silent tears flowing down his own face.

The baby, who had been sleeping during the whole exchange, woke up. She peered up, puzzled at the scene before her, wide eyed, revealing under her long lashes eyes that were Midnight blue, with a touch of violet.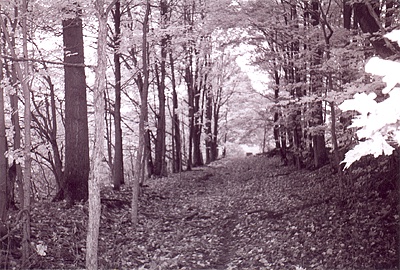 © Casey P., Marblehead, MA