Rewind
June 28, 2009
Power besotted my body, captivating me, as I over look the midnight fog. Up above it all, I could barely see the lantern in the shop windows. Light glistened off the freshly
dampened ground and water drip from the trees. Listening to the clattering of the hooves
on the coeval stone, intertwining with the aerie creaking of the wooden carriages as they
move unsteadily through the town. The sound of the rattling metal wheel against the stone let loose a silent ringing in my ears.

The air beat against my face, hard and heavy. Mocking me with its sweet, smell of flesh and blood. Fog filled the air concealing my face, making it difficult to breath.
Adrenaline rushes through my body clashing with my calm heart. My eyes flash in the light as I glance from person to person.

The salty, iron scent of frantic blood, inside the insuperior human, trail through me. A scent so strong I could taste it. The once pure, innocent air taunted me with its
luminescent scent.

I jump down into town and silently walk in shadows. I listen to the sound of young blood rush through the children outside way past time. Wind whispers in their ears making it easy to be unheard. I feel the warmth of the flesh against my lips, even before I come in contact with it. I savor the moment of fear that rush through his body before I sink my teeth. I can feel the warmth of his blood against my tongue. Salty, iron thrills my taste buds. Screams for mercy echo, but unheard, all of town climbed into their warm bed, escaping the cold, dark outside. It slivers down my throat like a stream. I let him live.

The glow begins to grow over the horizon like a child waking. The crimson lights fill the sky with vanity and opposition. The world comes to life, as the tables turn. I now
fend for my life. The new day bring grief and wonders. Searching through shadows I reach the Widows Watch and sit in shadow. The wind looks over the town. A rush of people tease me, but I am satisfied . . . until night fills the air once more.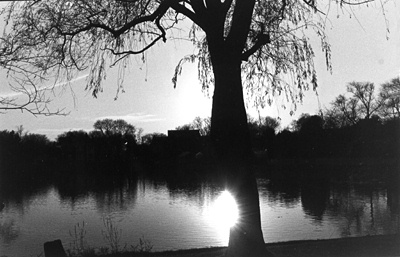 © Chuck K., Marblehead, MA