The Lightning Thief
June 1, 2009
I have never been to Camp Half Blood, but the novelist Rick Riordan made me feel as if I had been in the 21st century New York, when a kid named Percy Jackson finds out he is demi-god. The story of how he helps save the world is told by Percy Jackson. The story is told in first person so it really helps the flow of the story and I like that writing style.
The reason I loved this book is because there was so much suspense flipping through each page it was hard to stop. Also at the ending couple of sentences at each paragraph is like being on a rollercoaster with your eyes closed, you have no clue what will happen next.
A kid named Grover is a friend of Percy's. Many people don't know Grover's secret, but Percy knows all about it. Another thing that kept me on my heels is waiting to know why Grover was so important and what his secret was. That is another reason you want to keep turning the pages to find out what his secret is in The Lightning Thief.
The other main character in this book is Annabeth. She is someone that Percy meets at Camp Half Blood. She is one of the people that helps Percy on his quest, for the self dignity and the respect that they want from there parents (who are real gods like Zeus and Poseidon). Annabeth has a friend named Luke who does something really bad to mess up Percy's quest in big ways.
The lightning thief is filled with interesting characters like Grover, and although this is a fiction book, Percy makes them all seem like the people that go to your school or that are in your every day life. That is another great part about this amazing book that I love.

Grover and Annabeth are fascinating, but the most important character in the book is Percy Jackson. Although falsely accused of something he didn't do, he still tries to make things right and save the world.
Does he succeed or does he fail? What is Grover's secret? What does Luke do that is so bad? All questions that you can find the answer for when you read The Lightning Thief.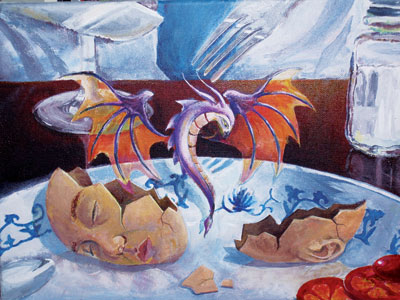 © Yukun Z., Toronto, ON, Canada