The Spark
May 14, 2009
Looking through the window I see a plane, not flying, gliding, by the endless sea of clouds. The blue ocean, let's call it sky, extends to the horizon, to the infinite. The plane, let's call it imagination, glides by the recently named sky. The clouds around sing in harmony, slowly moving by the sky, as if time didn't existed. They also formed shapes, making me smile. Rabbit or lambs were very common.
The god, call it sun, illuminates the world, his fingers, long and hot, reaching the earth, touching smoothly my face, making me giggle.
The music is high, and I see something in the horizon, nominate it bird, flying with splendor. The bird slides across the sky with his own rainbow in the back. He comes close and starts to sing the melody of heaven. The world stopped, just to hear the bird. The notes came out of its sweet mouth and slipped to my ear, leaving a sweet scent in the air.

Suddenly a disturbing sound, like an inhuman cry of a soul burning in hell is heard. The bird goes silent. The blue sky darkens, the clouds shows frightening shapes, the god, the sun, disappear, and his long fingers, before warm and friendly, became sharp claws that scratched my face. The horizon shortened, locking me in a dark room with nothing but silence. I stand there, motionless for a few seconds, until I lie down and cry. The life, the happiness, were all gone. I was stuck in that huge nothing.
But what I see in the distance? A spark or a mirage? But was it all true? A dream, a nightmare that was beyond my control. I stand up with some hope and run toward the light. The light starts to increase.
"I will make it! I will make it!" I cry thinking that would eventually escape. But the light, the one that gave me some hope, disappear, letting behind it a thin dust. My heart falls to pieces and I go mad. I look for the infinite, the darkness, the fear, the shame. I raise my head toward the sky and cry asking him "why" and waiting for a response. Silence.
I fall in the floor and close my eyes, I feel the life going out of me, emptying my mind, now I could finally rest. Soon, my closed my eyes had no longer strength to open. But suddenly, in the far east of the room, a new spark appears. A more brilliant, a more powerful light then the first one. This time, it comes in my direction, but I do not care. Life, almost all had left my body, but in a second, it all returns, making me scream.
A shock and I open my eyes. The room, a unknown room, opens in front of me. Slowly, my mind calms down and I remember everything. The insignificance of normal life.
A dream, the unreality. I close my eyes and cry.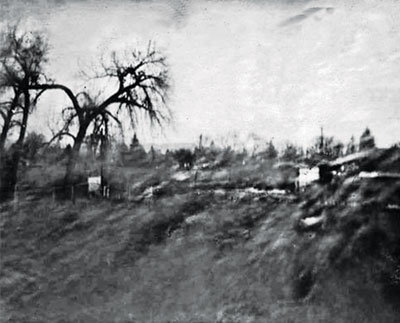 © Matt P., Monte Vista, CO