The secrets of a housewife
November 14, 2008
Sophia watched as the house emptied out, then she slowly drove off, making sure no one she knew saw her.
He was as beautiful as the last time she saw him, a few years older and a few pounds more, but the same. Sophia built up the courage to tap him on the shoulder, but before she had the time to, he turned around. His eyes lit up when he saw her, and he could not help but smile.
"Sophia Allen, long time no see, how are?" Vince said, he hugged her, and took a good look at her. She looked older, much older then the 45 years she actually were. It was almost six years since he had last seen her, but she still made his heart leap.

"Vincent!" Sophia said, she tried to not sound nervous, but her voice was a bit shaky.
"Soph, you look great, what have you been doing?" Vince said, he lead her to his office, where they sat down.
"Well, I have got married, got two little boys…" Sophia was not ready.
"Wow, I did not think you where the marrying kind after Aleq" Vince smiled.
"Well, you know… What have you done, got married? Kids?" Sophia's voice was still shaking, but she tried to pretend she did not hear it.
"Yeah, right. No, I mean, I did marry, but it did not stick." Vince laughed.
"Vince, there is something I have to tell you…" Sophia started very nervous.
Vince looked expecting at her, but Sophia could not form the words she had practiced so long to say.
"Vince, I want to apologise for just cutting you out six years ago, but there is something I have to tell you about that…" Sophia tried, but she just could not get it out.
"Hey, Phia, I tried to call you. I mean, we grew up together, we are friends and we dated…" Sophia put her hand up, "Vincy, when we were together last time, I was engaged to Jack, you were a fling, a fling that turned bad…" "turned bad? Phia, hon', I loved you…" Vince said hurt.
"Vince, I have always loved you, but our timing were off. I was engaged, I already had four boys that still lived home, sure you're Uncle Vince, but how would that look, me knocked up, leaving my fiancée, because I love you!" Sophia could not help it, it came out angry, just as she had prayed it wouldn't.
"wait a minute. Knocked up…as you were pregnant?" Vince looked hard at Sophia.
"Oh God, he is actually listening!" Sophia cursed for herself.
"Pregnant, as with child, yes." Sophia said, she still had a hit of anger in her voice.
"With who, Phia? Who were you pregnant with?" Vince looked at her with a look she had never seen before.
"Vince… I could just not leave Jack, he is different, he has lost so much, Vince." Sophia's voice was filled with plea.
"With who?!?" Vince raised his voice, he jumped up on his feet. Some of the people outside the office stopped at the sound of Vince's shouting. Vince pulled the curtains before the window, and sat down again.
"With who?" he asked again after some deep breaths.
"With you, Vince. With you. The baby is yours" Sophia said, she felt tears wanting to come.
"Mine?" Vince almost fell out of the chair. "Why haven't you said anything before?"
His voice trembled.
"Because I did not want to believe it, Vincent. I hoped it was Jack's." Sophia said, she looked at him pleading for acceptance.
"Is it a…" Vince's voice broke.
"He is a boy, Vince. He turns six in two months." Sophia said, she went through her purse, looking for the photo she brought for Vince.
"A Boy… Wow...What is his name?" A tear fell from Vince's eye.
"I named him Henderson Nolan Harrison, Henry, I named him after you. Oh, Vince he is so much like you." Sophia tried to smile. "Here I brought a picture of him" Sophia handed Vince the picture.
Vince looked at the photo, he did not say anything for a long time.
Sophia looked at her watch, "Oh, no. Vince I got to go. I have to pick the kids up from school, and Lessy from kindergarten."
"I'll walk you out" Vince said, he took the photo with Henry with him.
They walked silent outside.
"You know I will want to see him, right?" Vince said gravely.
"Yes, I supposed you would. But wait a while, okay. I will arrange something where you'll be able to spend some time with him." Sophia pleaded.
"You call me, Phia, don't wait six years this time" Vince tried to smile.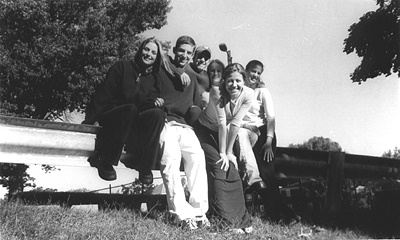 © Carolyn C., Marblehead, MA