Dodgeball Memories
April 17, 2018
Nothing was better than the warm summer nights in Jackson, MS. Bright stars dotted the clear sky at 11:40 PM. The late-night events at camp were always my favorite. Where was he? Even though a few past friends stood nearby talking to me, I was only focused on getting to see him again. I frequently glanced in every direction, searching for his familiar face. Nervously, I fidgeted with my name tag that hung around my neck. I was so nervous to see him; thoughts were running crazy inside my head. I couldn't stay focused on anything. All I was doing was standing outside of the girls' group, listening to them talk about Snapchat and the "hot" twins, Taylor and Tyler. It would have been fun, but I just didn't want to waste my time listening to the annoying things they were saying. The only thing I was worried about was if it would be awkward to see my best friend after 6 months. 
About 100 feet away, I saw my 13-year-old cousin, B, throw a red squishy dodgeball across the small arena and get another guy out. I decided to go stand on the sidelines and watch him. I did not want to look like a loner, but I could just think to myself without all of the gossiping, squealing girls around. I walked to a small dodgeball "pit" made of plywood about 25 feet across enclosed with sides about 4 feet tall. I crossed my arms and rested my chin on them while leaning against the wooden wall. I hoped this wouldn't be a boring night. In the past three years at camp, we had laughed and made many memories under the stars by the dodgeball pit. Despite the hundreds of kids around me, I was all alone this year.
I jumped when I felt a tap on my left shoulder. I turned around and met blue eyes through black Nike glasses. I almost gasped, but I kept the excitement to myself. I felt my freckled cheeks growing red-hot. Neither of us said anything. He came to stand beside me, resting his arms on the wooden plank beside mine.
"This brings back memories," he said. I put a little smirk on my face in response.
"Like what?" I sarcastically replied, giggling.
"Do you remember when you got mad at me for stealing one of your cheese fries?" He laughed. How could I forget that night? I thought.
"Yes, and then I pushed you and made you get a splinter in your arm." He laughed and then looked up at the stars. "Whit," the nickname I loved from him, "loves her cheesy fries!" he said and winked at me. I playfully rolled my eyes and elbowed him. He quickly elbowed me back. I was glad he remembered our stupid little games. Sometimes with us, it was the little memories that meant the most.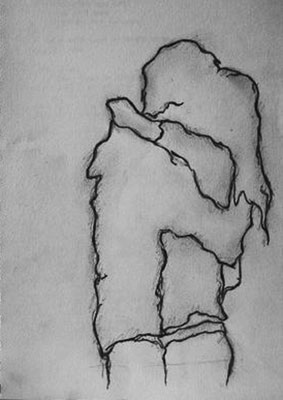 © Nicole B., Newcastle, WA