Stillness
April 11, 2018
Stillness. Quiet, deep, restful breaths. In, out, in out. But I'm not alone. A synchronization of breath, and understanding between two souls, two people. An understanding.
A shift. Noses touching. A point of contact. Breathing changes. A conversation made up of the space between our mouths.
And then something happens.
I sense your swiftly tilting head, scared of what will happen if any time is lost, as you press your lips against mine. And then, my mind goes blank for a moment. And you pull away as if to ask, "is this ok." I answer you by paralleling your movement, moving myself against you, lips, hips, hands.
We've always laughed together. You've always made me laugh like no one else, but now, you make me gasp. You've surprised me, even though I felt this was a long time coming
You pull away for a moment. And here comes the laughter. We laugh, our heated bodies shaking with relief and amusement. We laugh, and for a moment we are just friends again, laughing at characters in a TV show that we are only watching, not acting. In the dark, the comfort of my twin XL bed.
But we are the characters now, and the cameras are rolling. So, we return to our earlier pastimes, our mouths reconnecting. Your hand caressing the bottom of my face. I pull away to take a breath, to drink you in, to quench my thirst of you and your presence. You kiss my neck and I gasp once again. You've surprised me. We are needy, hungry, young, and it's 3:43 am and I'm wide awake. Sleep hasn't been on my mind for days, and I don't see myself sleeping for at least another week, because the feeling of our mouths together isn't something I want the wash of sleep to sweep away.  And we are hot and heavy, two stupid teenagers, grinding into each other and I'm hoping that I can have a piece of you near me for the rest of my life, hoping that this is the day that something will begin, and I snap out of my mind and return back to you on the ground.
And you're above me and I love the feeling of being wanted by you, and you pull back in the middle of a breath, looking down on me. I'm out of breath, smiling, glowing, and you tell me I'm beautiful and that's the only thing I can hear, and it echoes around my head as I pull you closer to me and I'm surrounded by you inside and out. You're in my mind and on my lips, your words rattling around my head as you press your body into mine and I'm full of wanting.
You're breathing the air that I'm breathing and I'm still wanting you more, wanting you to be mine always, I've got you in my arms, my hand clutching the back of your shirt into a ball at the small of your back, and you're still not enough. And my mind is fuzzy and blank and wide awake.
And now it's almost five am and my earlier thoughts about never wanting to sleep again are being pushed away by the allure of falling asleep in your arms, with your lips close to the soft skin of my neck and your hand tracing patterns on the smallest part of my back and before I know it we have return to the synchronizing breath from which we began and I'm asleep.
I wake up before you and I'm eager to see what this early morning holds for us, but I don't want you to be disturbed by my anticipation, so I slip out of bed to shower, and as I'm looking back on you, your face slack with sleep, I fall in love. I bend down and press my lips gently against your temple, being careful not to wake you.
I stand still in the shower, water washing over my head and face and lips and everything feels different and I didn't know that everything would be the same.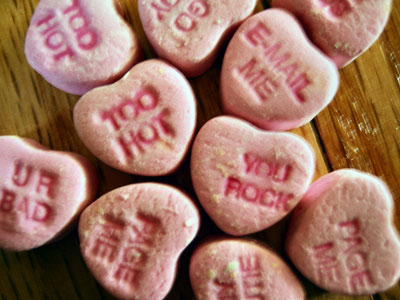 © Valcy E., Stony Point, NY