Epilogue
April 6, 2018
UNCLE ZENO heard a bell ring as he floated out of his dreams. Nothing ever stopped in Aliceville at such an early time in the morning. The ringing was so real and loud that he awoke. And it kept ringing seemingly from the direction of train station. "Is it Jim?" Uncle Zeno thought. This idea frightened him for a moment. It reminded him of the night when Bucky's coffin arrived. He realized he was afraid, afraid that the ringing bell was a coffin. Then, he heard hurried footsteps moving toward the door, the rattle of a knob and the pitch of voices that drifted up and down like waves.

Uncle Zeno opened his door.

"What is it?" He asked.

"It's Jim! Jim is back! He is back!" Uncle Al almost cried.

Is he really alive? Uncle Zeno wondered but dared not ask aloud for fear to know the answer.

Jim's Mama and uncles all came to the train station. As they piled in, Jim's Mama quickly spotted a familiar figure waiting for the incoming train. It was Chrissie. She heard their footsteps, and turned toward them, with no surprised expression.

"Ma'am," Chrissie nodded and gave a smile.

"Hi Chrissie," Mama smiled back. "Why did you come here?"

"Jim's coming back," Chrissie said. "The bell told me so."

Simultaneously, they heard a train whistle as the locomotive entered the station. All the people waiting for Jim ran to the platform. Three years had passed since 1942. Here Jim was, finally, here he was in Aliceville again.

"Oh Jim," Mama and the uncles all burst into tears. The three uncles started to pull out their handkerchiefs and blow their noses.

"Hay fever again, eh?" Jim said without hiding his smile.

"You look so much better, Doc," Uncle Zeno said as he patted Jim on the shoulder. "We are happy to see you back."

"Oh, come on, no need to be sentimental."

Jim turned to Chrissie. He immediately recognized her because her hair had grown back to its original length, or even longer, he observed. She saw him, and her dark eyes widened. They slowly walked toward each other, until they were close enough that Jim could smell her perfume.

"Your hair is longer," somehow that was what first came to Jim's mind.

"Better than short."

"I like it." She looked exactly like the way she was when they first met, except she was more of a woman now.

"How're," Jim stopped, and asked, "how's everyone?"

Chrissie seemed idle. She felt her tongue was stuck by something.

"Everyone is doing well," she started. "Miss Brown is still teaching history …Ellie and Dennis had a really cute baby and it's a girl…And Norma, she went to one of those best colleges, and is majoring in math, I believe."

"Of course."

"How have you been these years? How's the war going?"

"We won. Sometimes it was monotonous though," Jim grinned, "we drank black coffee every day."

"Are you going back?" Chrissie asked, frowning.

"No. The war has ended. I don't need to go back anymore. I'm staying in Aliceville."

Jim was silent for a while. Then, he slowly reached into his pocket to search for something. He pulled out a tobacco tin. Inside was the long, thin braid of black hair. It was Chrissie's. It had red thread tied at each end. As Chrissie saw the braid, she sobbed and her shoulders were shaking.

"I've promised you, Chrissie, that we'll live on the sunny side. I'll build you a good house and I'll keep the woodpile tall and I'll buy you a new coat and I won't let you get cold ever again. And now, here I am. I'm back. I'm back for you."

"Jim." Chrissie's voice was trembling.

"Yes?"

"We've waited for you for a long time. We miss you. I miss you." Jim watched a tear drop onto her coat and onto her blouse. He realized he was crying, too.

"Do you know why I gave you my hair with red thread tied at each end? It is because anything tied with red thread signifies an eternal connection. Once I gave you my hair tied with red thread, it means I believed that you'd be back, and I don't want to be apart from you ever again. Don't you dare to leave me again, okay?"

"No," Jim said, "we will never be apart again, my dear Juanita."

"That's it, old man," she burst into a smile with tears still on her face.

"When we live together, don't be selfish," she said softly, "I don't want you to eat all the walnuts. You need to leave me enough to make a cake, Hernado."

Jim laughed out loud. "Alright, then," he said, "I'll leave every single walnut for you, as much as you want." After these three years, Jim felt the sunshine on his face again.

"It seems you've changed a lot, old man," Chrissie laughed. "If it were before, you'd be so selfish and say you just will eat most of the walnuts. Experiencing a war really changes a person, doesn't it?"

Jim grinned, and suddenly, knelt on one knee in front of Chrissie. Picking up her left hand, he felt so wonderful as if it was the best day of his life. He turned it palm upward and studied it the way he might have studied some book he had to set aside and now whose pages were the only thing he wanted to read for the rest of his life.

"Chrissie," Jim called her name as gently as a breeze touches the grass, "will you marry me?"
Chrissie seemed stunned for a moment. "Aren't you afraid of what other people think, I am half-Cherokee?"

"When, even for once, had I cared about you being half-Cherokee? Whether you are half-Cherokee or not, you will be another me." Jim stopped, and said with an earnest expression, "I love you, Chrissie. I love you."
"Oh Jim," the tears around her eyes were like the clearest spring, "I love you, too. I don't want to live without you ever again."

Jim pulled Chrissie's hand toward him, and held her in his arms, and thought This is how the rest of my life will be. When he looked at Chrissie's dark, shiny hair, he saw the brightest blue star glowing in the sky.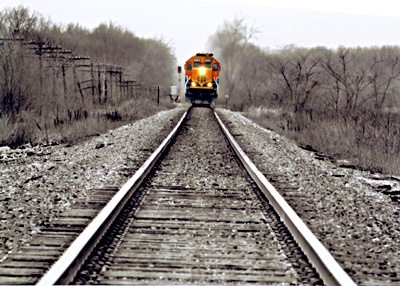 © Matt D., St Peters, MO