Revolutionary Love
April 2, 2018
Alone, I heard the mere whisper of trees confessing their love to one another. Alone, I witnessed the glorious sun rising and setting. Alone, I smelled the strawberry ice cream that lovers would share. Alone, I wished to, one day, find my true love but this was a fantasy far too unfeasible. My mother and father died when I was only young, but I could never remember how, leaving me a worthless, homeless, girl with no home, money, or anything for that matter. Love was all around me, for I lived in Paris, the city of love. I watched the stars and thought about how every person on this planet went to sleep with the same stars above them. Some nights, I could even spot a shooting star. On those nights, I made a wish, the same wish every time. I hoped to find love and remember my past life.
When I had finally saved enough money for a small ice cream, I sprinted to the ice cream parlor. There, I found a boy so handsome and charming. When I walked out of the ice cream shop that boy was waiting next to the door. He followed me all the way to my bench. He sat next to me and told me that his name was Calvin.
"Hello, I'm Chloe!" I responded.
Not long after, his mother rushed over screaming, "Calvin, what are you doing with this piece of trash? How many times have I told you that you can only talk to people in your class?"
Calvin's face was devastated as she pulled him away and drove off in her Mercedes Benz. I was heartbroken, I might never see him again. He was so wonderful! But just like that, he was taken away from me. That night I looked at the stars and wondered if he was looking at them too! When I woke up, Calvin was there. His crisp green eyes were fixed on me.
"Good morning Chloe," he said with a grin.
"Oh! What are you doing here? Didn't your mother forbid you to talk to me?"
"She did but I'm not going to let my mother's words keep me from being happy!"
I couldn't believe it! Someone, Calvin, noticed me. Someone, Calvin, cared about me. Someone, Calvin, didn't see me as a worthless piece of trash. We talked for some time before he had to leave. I learned that he also wished to one day find true love, and he also heard the trees' whispers. I couldn't wait to see him again! On Friday, Calvin came and we talked and talked. I wondered if this was true! I wondered if this was love!
That night, my heart yearned for remembrance of my past life. Memories of peppermint scents and elegant parties, but what was I remembering? How could it be? That sounded like the life of a princess. I, Chloe, am much too far from being a princess. I am homeless and that is my reality. But every day lavish memories haunted me and my heart felt like I was missing something. But what was it?
A few weeks later, Calvin snuck to see me again. Every time I saw him, I fell in love with him even more.
As the months went on, the weather became colder and crisper. Each day that passed, a feeling of absence took over more and more of my heart. I wondered what happened to my parents, and I missed them terribly.
Things between Calvin and I were only getting better. However, sometimes he would have weird bruise marks on his face and body. Whenever I had questioned the mysterious marks, he would brush it off uncomfortably and deflect from the subject.
I became more curious about what these bruise marks could be! Later, I found out that it was his mother who caused these horrible marks. She had been physically abusing him and tormenting him. But why? How could a mother do such ruthless things to her own son? How could a mother be so heartless to her own flesh and blood? Similar to my life, everything in Calvin's life didn't feel right!
Calvin and I were determined to know the truth and nothing but the complete truth! Our mission was not easy by any means but we didn't give up. We talked and talked to everyone who worked in the palace where Calvin lived. We asked and asked anyone who Calvin knew about clues that could lead us to the truth! After searching for answers to the many questions that we had, we found that Calvin's mom was not his biological mother. In fact, she had kidnapped him. How horrible was that! However, that was not the worst part of the story. After a very long and tiring search for answers, we discovered the most shocking news! This lady had killed my own parents back in 1789!! Calvin was our guard in training. What a small world!! The lady who claimed to be his mother, took over our palace, my parents' palace. That horrific time was known as the French Revolution. I had read about it in books that I found in the public library where I used to stay sometimes. During that time, all of France was still suffering without the right king and queen. The books that talked about that time had said that no one knew what happened to princess Chloe who was the daughter of the king and the queen! The French Revolution continued on.
Once Calvin and I learned what we learned from the people around him and related the stories that they had told us to the facts that were written in books, we were very shocked and heartbroken. All those years, that both of us had spent in misery, were a big lie. Both of us were victims! Calvin and I told the story to anyone and everyone who would listen to us. Finally, people who witnessed the real story agreed to inform the French troops and convinced them to believe our tragic story! From then on, justice was served and that horrible lady, who pretended to be Calvin's mom and who killed my dear parents, was locked in a cellar for the rest of her life.
Calvin and I continued to be in love with each other. He brought me to the palace where he lived and where memories of my past life were brought to life. Fancy vases and luxury carpets that I distinctly had remembered from my childhood were all over the palace. I longed to see my dear parents, but this would never happen. I found my mother's lavish dresses that draped her body perfectly!
Years later, in 1799, Calvin and I got married. That day was a real fairytale! We became the King and Queen of France. This marked the end of the French Revolution and the end of our tragedy!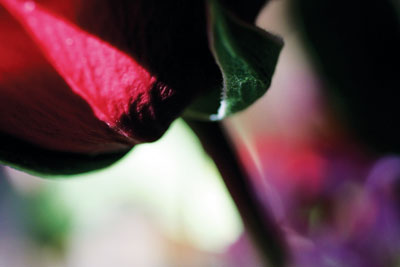 © Monica L., St. George, UT