Empty Space
February 2, 2018
Colton's hospital room began to feel like home to me. My blanket draped over the chair in the corner, my favorite snacks expansively covered the counter space, and my favorite show, The Office, incessantly played throughout the days and nights on the TV that hung directly to the left of the hospital bed. It was my eighth night staying with him at Rex Hospital in room 248, and not a minute went by where I wasn't crying, angrily questioning the sky why this had to happen to Colton, why couldn't it have been me? Why couldn't I have been the one that slipped into the coma?

Our story was like any other typical teenage love story-Colton and I- it seemed as if it came right out of a cheesy teen romance novel. I grew up going to elementary and middle school with Colton, but I never talked to him or hung around his coterie of jocks, he was always just another face in my classes filled with ennui. We met in our second period Geometry class with Mr. Jones. Because of alphabetical order and our names being Colton Bents and Catalina Baer, I got assigned to sit right in front of him. It wasn't long before poking my neck with a pencil and whispering laughable remarks about Mr. Jones in my ear became a part of Colton's everyday source of entertainment in class. I always acted like these incidents annoyed me, but it soon became obvious Colton was being flirtatious and before I knew it, I was doing it back. Soon enough, Colton got up the nerve to ask me on a date…to Steak n' Shake.
I remember it like it was yesterday: the smell of greasy food, the sound of frozen patties sizzling and unthawing on the grill, and kids surrounding the claw arcade game inserting endless amounts of nickels to try and win a plush stuffed animal-I had never been so excited to be in such a dirty place. We were seated in a booth by the window and Colton put in an order for two Cookie Dough shakes with a plate full of fries. I never noticed his features until I watched him order. His deep blue eyes seemed to look deeper into you than just the surface, his golden locks captured the light just right, and his beaming, bright wide smile accompanied by a single dimple on his right cheek was the kind that made you want to smile just by looking at it. These were the little things I began to notice as the night moved on. We talked about everything and anything from our family situations and how my mother passed away from ovarian cancer when I was a child to where our dream vacations would be to. We clicked so well and we began hanging out every weekend after that. We went to drive-in movies, took day trips to car shows in the ritzier cities, visited the aquarium, mini golfed at Pirate's Cove; we were inseparable him and I, I was falling in love with Colton faster than I was ready for.

It was the night of our third year anniversary, we were seniors in high school now, and Colton surprised me with a date night that consisted of going to dinner and then stargazing on the green at the Pinehurst Golf Club; three years is a long time to be with someone. He picked me up from my house in his white 2013 BMW convertible and we headed to The Melting Pot to eat. We had a nice dinner, he told me how much he loved me and how he could see himself spending the rest of his life with me over cheese fondue and chocolate cake. I didn't think I could love someone anymore than I did in that moment. After dinner we drove over to the golf club and laid out blankets on the putting green. We laid there wrapped up in each other's arms talking about the universe's mysteries for hours before we were hit by a rain shower. We decided to pack our things and head home. On the way back we listened to Colton's Alabama Shakes CD on full volume. "I Found You" was playing when I decided to lean in and kiss him on the cheek. Brittany Howard had just finished singing the line "but I finally found you" when I sat back in my seat to be shocked by the image of a jumping deer across the road. From then on everything went silent. It all happened so fast, too fast that I still can't wrap my brain around the idea of what happened-a deer, a dramatic swerve, oncoming headlights, and then darkness…pure blackness.

I lifted my head from the dash slowly and felt shards of glass fall from the top of my head; the sound of ambulances echoed in the background. My vision was blurred and I turned to my left to see the driver seat empty. Confused I looked into my lap and at my hands and noticed I was covered in blood, the windshield no longer existed. I looked out of the car, still wondering where Colton was, and noticed a huge mass of crunched metal, we had collided head on with a red Toyota Corolla and instantly I knew there was no way anyone in that car survived. I quickly got out of the car screaming for Colton and came across a mangled body dressed in red clothing which earlier in the evening was once white. I fell to my knees and began to wail as I hugged his cold, limp body close to mine; the ambulances sounding closer and closer between each cry for help.

The paramedics said we should of both died, but because I wore my seatbelt my injuries were less severe and I was only left with a concussion. Colton on the other hand was rushed to intensive care. I waited hours and hours late into the night on the cold tile floor of the hospital to be told that he went into a coma. The doctor also told me that there was a 50 percent chance of him waking up from the coma and living on, but also a 50 percent chance of him dying. I decided I wouldn't leave Colton's side until he woke up. The first days were hard for me, I sat and just looked at a blank face encrusted with dried blood; that beaming smile gone from his face and his hair dull and pasted to his forehead with sweat. Some of his friends came by and dropped off little gifts for him and shared their sympathy for me, but as the days moved on less and less people showed up. I started talking to Colton and telling him that everything was going to be ok. I even brought a CD player and played all of his favorite music. We watched movies and TV and I'd lay right next to him wondering if he was ever going to wake up; I was beginning to lose hope.

It's been eight days now and I am sitting in my chair in the corner pensively watching the rain drops haphazardly glide down the window glass. The next thing I know a long beep disturbs the stable beeping on the heart rate monitor. My mind goes blank and I continue to stare out the window as the nurses rush in. I know right away that he is gone, my beloved Colton, the boy I grew and prospered with, the man I was supposed to spend my life in the future with…gone. I am motionless in my chair, and when I finally turn my head, he is missing from the room, just as he was missing from the driver seat in the accident.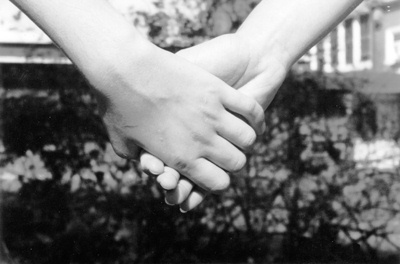 © Lauren G., Pompton Plains, NJ